Subscriber Strategy Analysis
I was asked to analyse the following strategy:
1. Buy MTC stocks on breakout if BoP is above 8 day exponential moving average (EMA) and 21 day EMA.
2. Only buy if NASDAQ in uptrend
3. Sell at next open when 8 day EMA is lower than previous day
Since one of the constraints was that the NASDAQ be in an uptrend, I chose to only analyse breakouts since 2009 and only those from a CwH pattern. I also found that there were only a handful of stocks that met all the criteria so I instead chose to use stocks with a Relative Strength Rank (RS) >= 92 (the most important of the MTC requirements).
There were 387 breakouts that met the criteria. I quickly found that applying the sell when 8 ema is lower than the previous day was open to interpretation - for example, by how much less? I chose to round to 1 decimal place although in retrospect it would have been better to apply a % change requirement. If there is enough interest I will repeat the analysis for different tolerances.
The results are superficially quite promising. A scatter plot of all the returns vs the number of days that the position was held follows. You will see that the average return is 3.9% but that most losses occur in the first 20 days. This suggests that the profit margin can be improved if positions held for more than 20 days can be strengthened for a modest premium over the breakout price.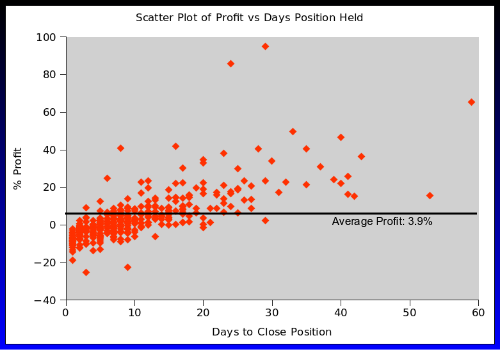 A histogram shows the number of breakouts in each 5% profit group: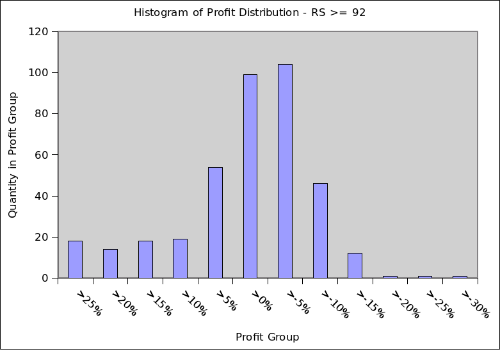 While the results show a modest profit on average, they assume that one opens the position at exactly the breakout price and an overnight sell order would execute at the next day's opening price. In practice I suspect that slippage would eat into the potential profit by 1-2%.