Subscriber Strategy Analysis Redux
Last week we looked at a trading strategy based on
1. Buy stocks with an RS Rank >= 92 on breakout if BoP is above 8 day exponential moving average (EMA) and 21 day EMA.
2. Only buy if NASDAQ in uptrend
3. Sell at next open when 8 day EMA is lower than previous day in first decimal place
You can review the results in
last weeks newsletter.
I suggested then that selling based on the 8 edma falling by a percentage amount may lead to better outcomes so I have rerun the analysis for several different sell stop options. Also, the subscriber who suggested the strategy, proposed that we require only that the 8 edma be rising, NOT that the breakout price be above the 8 edma.
With this change I ran the strategy again since January 2009 for all CwH breakouts with RS Rank >= 92 using a sell at open order if the 8 edma fell by 0.25%, 0.5%, 0.75% and 1%.
The average returns for each analysis were:
| Sell When 8 edma Falls | Average Profit |
| --- | --- |
| 0.25% | 4.3% |
| 0.5% | 4.4% |
| 0.75% | 4.2% |
| 1% | 4.2% |
As you can see, increasing the stop value beyond 0.5% didn't improve results. For comparison, the average return in last week's analysis was 3.9%, so using a percentage based stop did produce a better outcome, with the best stop value being 0.5%. This gave a profit improvement of 13%.
The average number of days a trade was held also went up from 10.3 days to 13.7 days. A scatter plot and histogram showing the profit distribution follow.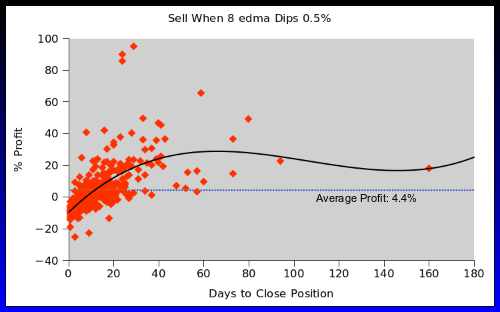 The scatter plot shows that very few trades fail after 20 days, so if a sell signal (8 edma drops by 0.5%) has not been given by then, consider adding to the position as it is likely to improve further.

I fitted a polynomial to the plot and this shows clearly that very few trades improve after 60 days, so it would be wise to take profits by then.

The histogram shows clearly that there are many more winning trades than losing ones (actually 217 to 175).

These profits are based on being able to buy at the breakout price and sell at the open on the day after the sell signal. While the sell at open prices used in the simulation are achievable, being able to buy at the breakout price is theoretical only. In practice slippage will likely reduce profit margins by 1-2%. Nevertheless, if a trader follows this strategy and reinvests profits, then the accumulated gain over time could be substantial.