For the benefit of new readers, we again mention that we focus on the NASDAQ Composite, rather than the S&P 500 or DJI, in our weekly commentary because the majority of breakouts come from stocks listed on that exchange.
After three attempts, the NASDAQ Composite broke through resistance at 3170 on Friday. The index now faces stronger resistance at 3195, the highest point the index has previously reached since the 2007 collapse. As we said last week, we expect the index to now trade in a range between resistance at 3195 and support at 3170. Our reasoning is that the economy is starting to slow (
GDP Declines Slightly in Fourth Quarter
) and this slowdown is likely to continue in 2013 as further spending cuts take place and households pay slightly higher taxes due to the expiration of a temporary payroll tax cuts. Regular readers will know I am a fan of Nouriel Roubini who believes the
world faces tough sledding in 2013
. A counter argument is that the US housing market is recovering and the improvement in perceived household;d wealth could lead to the US Consumer, who represents 70% of GDP, once again putting purchases on their credit card. While this is already happening to some degree, the high unemployment rate, and insecurity for those that have jobs, will continue to hold back consumer spending.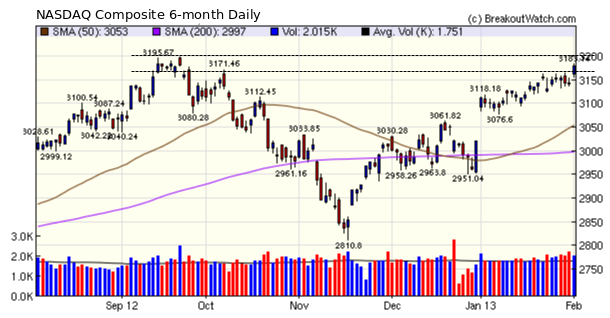 The number of breakouts fell back this week, and their average gain by Friday's close was also reduced, compared to last week. If the NASDAQ trades in the range I expect, then the number of breakouts and their profitability will continue to decline. This may not be the best way to encourage new subscriptions, but I believe my subscribers value objectivity over unrestrained optimism. On the other hand, a stalled or falling market will represent some promising shorting opportunities for followers of our potential breakdown watchlists.
Special Offer

We need testimonials for a site promotion effort. Tell me in 50 words or less why you like the site and I'll extend your subscription by a week. I won't use your name, only your initials and city, state
.