Recommended Buy Criteria
We ran a simulation of the CwH Backtest tool to seek the most profitable buy criteria this year using the Buy on Alert strategy. We will run the simulation for the Buy at Open strategy next week.
The simulation was done for 4 positions (meaning that 1/4 of available cash was used for each buy) using all combinations of criteria in the following ranges:
BoP Stop Loss %: 5 to 10 in 1% increments
Trailing Stop: 2 to 8 in 1% increments
Min. Vol. to Adv Ratio %: 1.25 to 2 in 0.25% increments
Confirmation Vol. Ratio %: 1.25 to 2.5 in 0.25% increments
Top Industry percentile: 25 to 50 in 1 percentile increments
Other criteria were held at their default values: RS 92, minimum BoP:$6, Minimum ADV 100,000, use Market Trend, Target Gain 100%.
After ranking all the results by Gain/Loss %, the winning values were:
BoP Stop Loss %: 5%

Trailing Stop: 7%
Min. Vol. to Adv Ratio %: 1.25
Confirmation Vol. Ratio %: 1.25
Top Industry percentile: 25
You can replicate these results yourself, using the values described above. However, there are a couple of caveats to point out about these results:

These values gave a return since January 1, of 4.53%. Better than the S&P's 3.8% but less than the NASDAQ's 6.8%. This disappointing result is due to using the 4 position option. Because less capital is applied to each position, if we are not fully invested then our capital is not being fully utilized. In fact, the maximum simultaneous positions filled was three and our average capital utilization was only 11.7%. Contrast that with a 1 position strategy, which gave a 16% return (although we were still only fully invested 21% of the time.
Note the low average volume requirements. This is surely due to the strongly rising market since January 1. The strength of the breakout apparently didn't matter as all breakouts did well.
In view of our skepticism that the trend since January can continue, we do not recommend these value for your buy/sell criteria. Instead, we have run the same simulations going back to the market bottom of June 1, 2012 which includes two uptrends and one steep downturn. This should provide a more reliable outcome for a turbulent market.

BoP Stop Loss %: 5%

Trailing Stop: 7%
Min. Vol. to Adv Ratio %: 1.25
Confirmation Vol. Ratio %: 2

Top Industry percentile: 40

These values are now the defaults in the CwH backtest tool.

The 4 position strategy since June 1, 2012 provided an 46% gain. During that period two breakouts contributed outstanding gains: OCN bought at 16.83 on 7/2012 gained 100% and was sold due to the target gain 100% limit (it would have gained 113% before being sold on a trailing stop) and TS gained 45%.

Using these parameters with a 1 position portfolio returned 66.6%.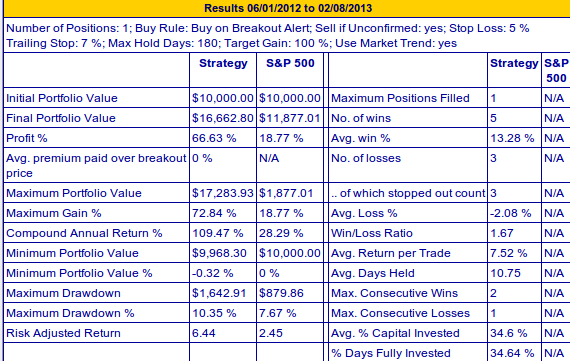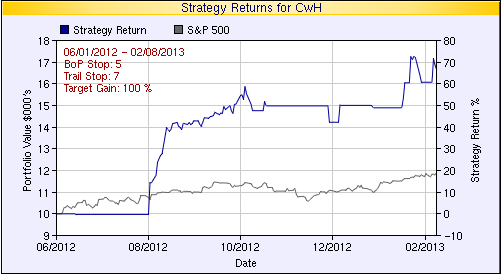 One Last Caveat

These results were obtained by optimizing the selection criteria over historical data. While the period of the backtest was representative of recent market conditions, the exact sequence of trades represented will never be repeated and so future results using these criteria, could be better or worse.