More Squeeze Enhancements
The Squeeze indicator has now been consolidated with momentum to provide a single chart. The image below shows GTN, a current entry on our CwH watchlist.
1. Squeeze Chart
A squeeze occurs when the Bollinger Band is completely enclosed within the Keltner channel, and this is indicated on the lower chart by black bars on the horizontal axis. You will notice that the squeeze is on currently in the handle for three days. The squeeze also occurred three times earlier in the six-month period shown and was each time followed by a healthy rise.
The squeeze indicators are overlayed on a normalized momentum chart. That is to say, that instead of using absolute momentum, momentum values are normalized within the range +/- 1. Positive momentum is represented by blue bars and negative momentum by red bars. A lighter shade of each shows a slight diminution in the momentum direction.
Charts with the squeeze indicator are presently only available from the BoWchart option in the top right hand side of the header., they are not currently available directly from a watchlist, although that will be added soon.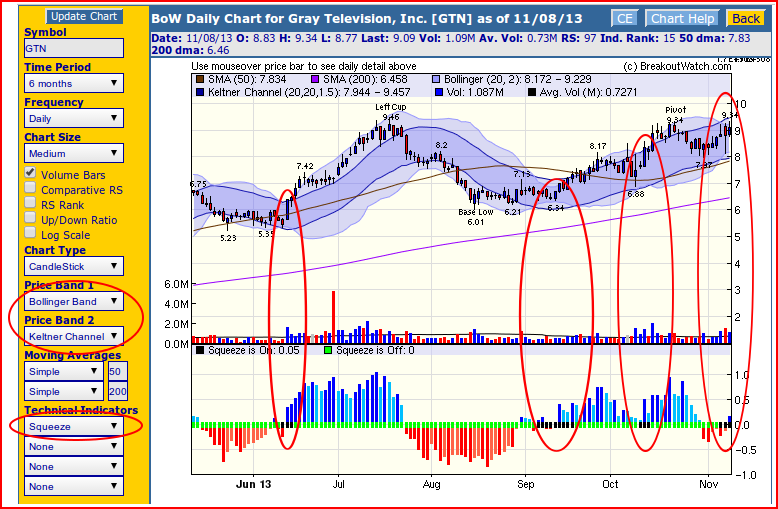 2. Squeeze Indicator on Watchlists
Watchlist stocks that are currently in a squeeze are now shown on each watchlist and the list can also be filtered to show only stocks that are in a squeeze.
NB. Alerts can not yet be filtered for the squeeze indicator
. The value of this is still to be determined.

3. Squeeze Filter Added to CwH Backtest
You can now do a CwH backtest using the squeeze filter
but the filter has only been added to backtest data to the start of 2013
.