When is an Alert Actionable?
For as long as I have operated breakoutwatch.com, there has always been uncertainty as to which alerts are actionable. The problem is, that although we know that confirmed breakouts are profitable, if they can be bought near the breakout price, we cannot know at the time of the alert if the breakout will be confirmed at the end of the day. We may now be close to having a solution to that problem.
I analyzed all the cup-with-handle alerts issued in 2013 and found that
the breakout was always confirmed if the handle does, or did, contain a squeeze
. This is a highly significant result because it means that if you can buy at the breakout price when a squeeze is on and sell at the close you will theoretically always make a profit!
I need to test this hypothesis further over a much longer time frame, but the implications for my subscribers, whether or not you can follow the market in real time, are significant:
If any stock on our cup-with-handle watchlist is tagged with a squeeze flag, you can confidently place a stop order with your broker at the breakout price (a stop order will only be executed if the stock reaches the specified price)..
This is independent of any other metric we publish on the stock. You can ignore RS Rank, Industry rank, technical score, fundamental score and so on.
This is also attractive because there are generally few CwH stocks that are tagged with the squeeze flag. As of now, there are only three.
Using our CwH Backtest, I found that the most profitable way to close out a trade begun in this way was to use a 4% trailing stop. Investing the entire portfolio in only one position at a time yielded a cumulative return of 61.8%. The parameters I used and the test results are shown below. While the profits on each trade were small on average, remember these results allow for trading costs.
(Click image for full size)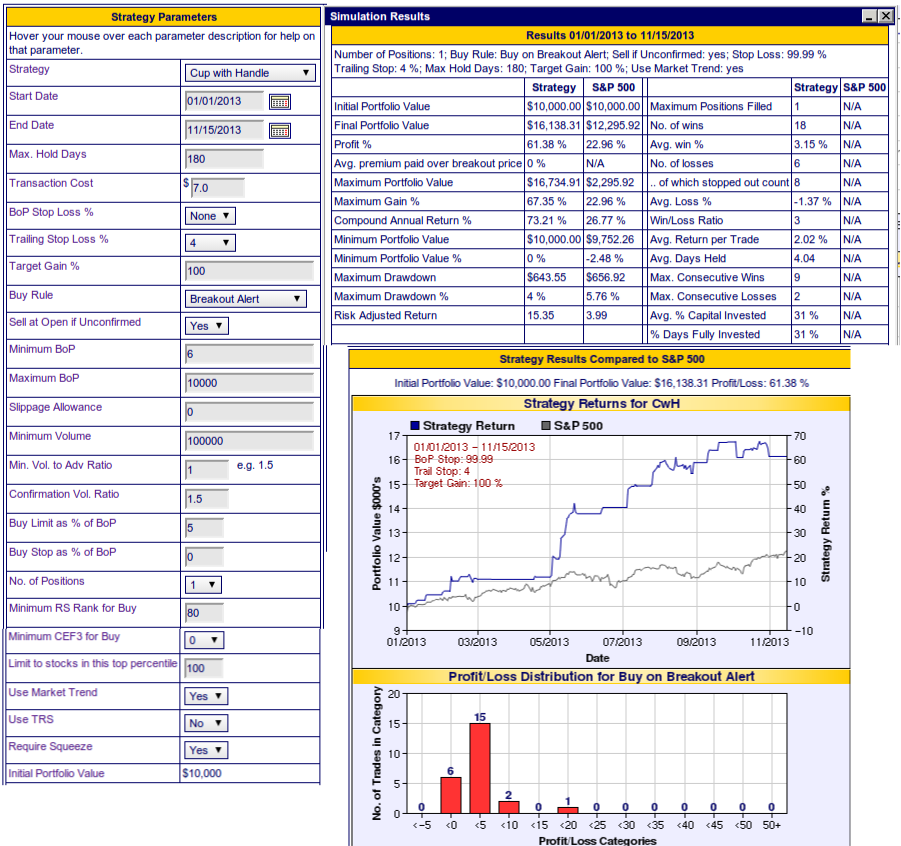 Finally, there is one other observation I want to share - that in the week following the breakout, average gains by squeeze breakouts were significantly greater than squeeze gains by non-squeeze breakouts.
Average % Gain Above Breakout Price for Squeeze vs Non-Squeeze CwH Breakouts

| Squeeze | BO Day Close | Day 2 | Day 3 | Day 4 | Day 5 | Day 6 | Day 7 |
| --- | --- | --- | --- | --- | --- | --- | --- |
| yes | 2.7 | 3.0 | 3.1 | 3.3 | 3.1 | 2.5 | 2.7 |
| no | 0.8 | 1.2 | 1.3 | 1.2 | 1.5 | 1.7 | 1.8 |