V-Shaped Bottoms: Why they Form and How to Profit from Them
During the bull market since April 2009, there have been many instances of of sharp falls and equally sharp reversals. These form what is known as a V-shaped bottom. They are interesting because market bottoms used to be more rounded as the downward trend stops and consolidation and recovery of confidence begins. Recognizing a V-shaped bottom can give an opportunity for quick short term gains.
This chart shows 11 clearly distinguishable v shaped bottoms in the last 3 years..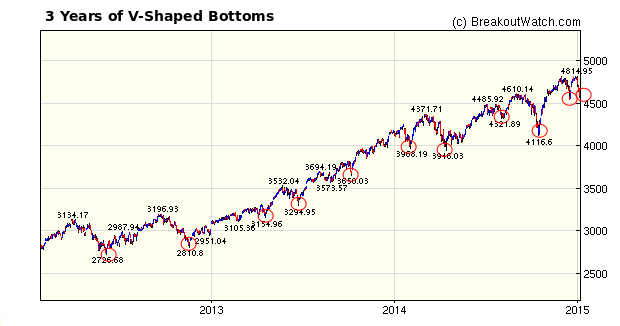 How and Why V-Shaped Bottoms Form
V-Shaped bottoms form when there is a strong trend in place with market fear that the trend will soon be broken and that a major correction is due. The longer the upward trend remains in place, the more likely are we to see V-shaped bottoms. This has been the situation in the US markets since April 20009. Shortly after a correction to the the trend starts, major market players start to believe the correction they have been expecting is finally in place and start to short the market in large numbers, causing a steep decline in prices. This decline is arrested when there is a mid-session reversal and the market closes above its lows of the day, usually on above average volume.
When this happens it triggers short covering by those who were short the market, resulting in high volume buying as they close their short positions. This causes the steep reversal we see in a V-shaped bottom.
How to Profit from a V-Shaped Bottom
Look at the 6 month NASDAQ chart above. You will see that when there was an intraday reversal, characterised by a lower shadow on the candlestick, it was followed by strong positive volume the next day. On that second and third day, you can buy breakouts with reasonable assurance that the breakout will be successful and profitable.
This week, the intraday reversal occurred on Tuesday the 6th January. In the following two days, there were 27 successful breakouts - the vast majority of the 34 recorded this week.