Search our Database to Find Quality CAN SLIM\AE Stocks


Are you looking for stocks that meet a specific set of CAN SLIM
\AE
criteria but which may not currently be on any of our watchlists. If so, then our database search may be the answer for you.
Each day we recalculate all our metrics for all common US stocks (typically around 6,000). You can select stocks that meet any technical or fundamental metric the CAN SLIM
\AE
investor could wish for, regardless of whether it meets our criteria for a particular watchlist. You do this through our database search function.
The Database Search is accessed from the Mine for Candidates Menu option. There are two ways to search the database. You can either select one of our 'Top 100' lists or build a more selective set of criteria.


Select a Top 100 List
To select one of the top 100 lists, simply select one and click the Search Database button.

These searches will return the 100 stocks with the highest technical score, fundamental score or CANTATA Evaluator (CE) score from our database. As an example, here are the top 10 stocks from our current Top 100 CE search.

The display will open with the core analytical and technical data displayed. Clicking the 'Show Industry Analysis' or 'Show Fundamentals' will buttons will show that data also. Click a 'Hide' button to reduce the display width to fit within your monitor.
More Selective Search
To be more selective, first choose a group of stocks to search on:

Then choose a set of selection criteria, you can search by Zone, Technical Criteria, Fundamental Criteria, or any combination thereof.
For example, most breakouts come from stocks in zone 4-3 (that means top technicals and moderately strong fundamentals). To select stocks in Zone 4-3 just click the zone diagram as shown: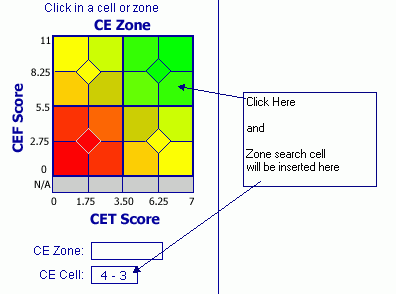 Finally, choose a sort criterion and click the database search button. The search will return the top 50 stocks meeting the search criteria.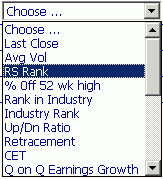 Here are the top 10 that the search would display today.

Note: This function will not work in the Chrome browser. It is supported in Firefox, but you will be prompted to confirm that you want the application to run.