Breakoutwatch Weekly Summary 09/03/16
You are receiving this email because you are or were a BreakoutWatch.com subscriber, or have subscribed to our weekly newsletter. This newsletter summarizes the breakout events of the week and provides additional guidance that does not fit into our daily format. It is published each weekend.
Weekly Commentary
DJI Trend Indicator Gives Downturn Warning

Our trend indicator for the DJI turned down on Thursday. A weakness in any major indicator can be a warning sign that others may follow, although for now, the trend indicator for both the S&P 500 and NASDAQ Composite remain at 'up'. We know that most breakouts come from the NASDAQ so we follow that index more closely than the others. The NASDAQ chart is showing that a potential head and shoulders top pattern (HST) is forming, with a possible right shoulder being established in Friday's trading.

This is not yet a sign for alarm, as the head and shoulders pattern would need to be completed before a distinctive bearish pattern is confirmed. This would occur if the price crosses the dashed line shown in the chart below. That is, a fall to a closing price below 5225. This is worth watching in the coming days. If the HST pattern is completed, then opening new long positions should be discouraged.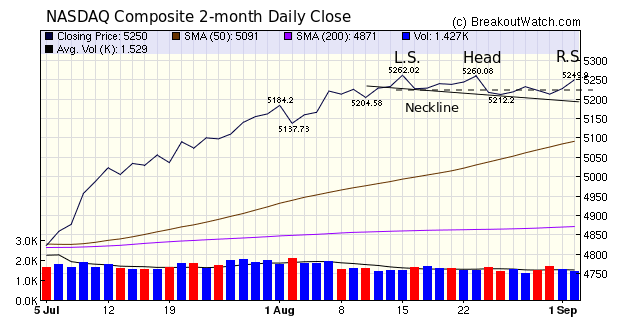 You can learn how we determine a Head and Shoulders Top pattern
here
.
New Features this Week
No new features this week.

Strategy Suggestions
Should any of your holdings complete a head and shoulders top pattern, our strategy suggestions are:
We published an analysis of Head and Shoulders Top breakdowns in our
newsletter of 7/29/06
. We found that a breakdown occurred in 96.38% of cases. This indicates that the head and shoulders pattern is a very powerful predictor of a price decline to come. This is true whether the slope of the neckline is upwards, flat or downwards. Of these, the decline after breakdown exceeded 5% in 74.5% of breakdowns.
Upward sloping necklines are much more common than downward sloping necklines and have a slightly higher potential return by about 1%.

As with the 50 DMA breakdown watchlist, our suggestions are based on my analysis of the results quoted, a review of the literature and the experiences of a short sale hedge fund manager
Short selling is risky because your potential loss is unlimited. When going long, the maximum amount you can lose is your initial investment, when shorting there is no limit to how high the stock can go from your entry level, so cover quickly when the stock moves against you.
Review the H&S Top watchlist prior to the market open to select stocks you would consider shorting if an alert is issued.
Set a target cover price before you go short, using either a fixed percentage or an expected support level, and take profits at that level.
If you go short on an alert and the stock recovers above the support level by the close, consider covering your position immediately.
If you go short on an alert and the stock closes below the support price but volume doesn't meet the 1.5 times adv requirement, don't cover but wait for the action on the following day.
Cover when a support level is tested and found to hold.
Don't bet against the market.
If you hold a long position in a stock that has completed the right shoulder of an H&S pattern, then you should sell because 96% of these stocks will break down.
Because of the high probability that a breakdown is about to occur, you may wish to open a short position immediately an H&S is identified before waiting for the breakdown. The position can then be added to when the breakdown occurs.Immediately after the breakdown, set a stop loss at the breakdown price to protect yourself against the 17.6% of breakdowns that recover the next day.
Otherwise, a reasonable target profit for the trade is 70% of the target price.
Breakouts Summary by Watchlist for Week Beginning 08/29/16

| List | Breakouts | Avg. Gain |
| --- | --- | --- |
| CWH | 11 | 3.26 |
| SQZ | 5 | 2.9 |
| HTF | | 0 |
| HSB | | 0 |
| DB | | 0 |
Breakouts Detail for Week Beginning 08/29/16
Brkout Date
Symbol
Base
Squeeze
BrkoutOut Price
Brkout Day Close
RS Rank*
Last Close
Current % off BOP
Gain at Intraday High
2016-08-30
AMID
CWH
n
12.50
13
92
14.28
14.24%
14.4%
2016-08-30
CLCD
SQZ
y
9.44
11
96
10.66
12.92%
16.53%
2016-09-02
AVHI
CWH
n
15.33
16
81
16.08
4.89%
5.28%
2016-08-29
LGIH
CWH
n
36.44
38
92
38.22
4.88%
7.66%
2016-08-30
USAC
CWH
n
16.25
16
85
16.86
3.75%
3.75%
2016-08-29
EVA
CWH
n
24.64
25
93
25.28
2.6%
3.94%
2016-09-01
STS
SQZ
y
17.23
17
98
17.62
2.26%
3.42%
2016-09-02
SQM
CWH
n
27.23
28
95
27.74
1.87%
1.87%
2016-09-02
CIB
CWH
n
40.16
41
87
40.9
1.84%
2.56%
2016-09-02
HNRG
CWH
n
6.75
7
80
6.87
1.78%
4%
2016-08-30
LMAT
SQZ
y
18.05
18
83
18.35
1.66%
4.43%
2016-08-30
INTL
CWH
n
36.41
37
85
36.84
1.18%
2.33%
2016-09-02
WK
CWH
n
17.93
18
84
18.1
0.95%
0.95%
2016-08-31
CRAI
SQZ
y
26.85
27
80
26.73
-0.45%
16.61%
2016-08-30
HBP
SQZ
y
6.36
6
97
6.24
-1.89%
5.19%
2016-08-29
AGM
CWH
n
40.74
41
87
39.88
-2.11%
1.64%
*RS Rank on day before breakout.
12 Month Successful Breakout History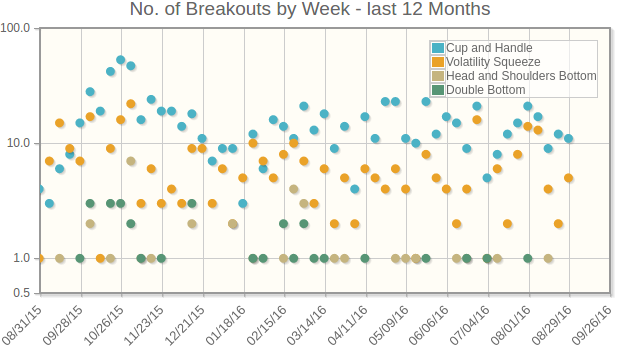 Top Rated Cup and Handle Stocks as of Friday September 02, 2016
Symbol
BO
Price
BO
Vol.
Company
Industry
RS
Rank
Last
Close
SKY
12.29
45,186
Skyline Corporation
Manufactured Housing
99
11.99
SMMF
20.47
49,941
Summit Financial Group - Inc.
Regional - Mid-Atlantic Banks
94
19.78
ENBL
14.93
364,054
Enable Midstream Partners - LP
Oil & Gas Pipelines
93
14.25
SMLP
25.02
214,120
Summit Midstream Partners - LP
Oil & Gas Pipelines
93
24.91
DAKT
9.99
620,024
Daktronics - Inc.
Computer Based Systems
92
9.74
CEQP
22.14
388,228
Crestwood Equity Partners LP
Oil & Gas Pipelines
92
20.95
OFG
11.25
564,990
OFG Bancorp
Money Center Banks
92
10.90
ARLP
21.20
505,524
Alliance Resource Partners - L.P.
Industrial Metals & Minerals
92
20.77
These stocks meet our suggested screening factors for our Cup and Handle Chart Pattern watchlist.
See Revised Rules for Trading Cup and Handle Breakouts
>
Major Index Summary
Index
Value
Change Week
Change YTD
Trend1
Dow
18492

0.53%
6.12%
Down

NASDAQ
5249.9

0.59%
4.84%
Up

S&P 500
2179.98

0.5%
6.66%
Up


1

The Market Trend is derived from our proprietary market model. The market model is described on the site

here

.

2

The site also shows industry rankings based on fundamentals, combined technical and fundamentals, and on price alone. The site also shows daily industry movements.
Best Performing Index
1 Week
13 Weeks
26 Weeks
Year-to-Date
NASDAQ Composite
NASDAQ Composite
6.22 %
NASDAQ Composite
11.3 %
S&P 500
6.66 %
Best Performing Industry (by average technical score over each period)

| 1 Week | 3 Weeks | 13 Weeks | 26 Weeks |
| --- | --- | --- | --- |
| Manufactured Housing | Manufactured Housing | Silver | Silver |
Most Improved Industry (by change in technical rank2)
Telecom Services - Foreign
65
Railroads
79
Manufactured Housing
215
Manufactured Housing
216
Charts of each industry rank and performance over 12 months are available on the site
If you received this newsletter from a friend and you would like to receive it regularly please go to the BreakoutWatch.com site and you will then be able to register to receive the newsletter.
Copyright (c) 09/03/2016 NBIcharts, LLC dba BreakoutWatch.com. All rights reserved.
" BreakoutWatch," the BreakoutWatch.com "eye" logo, and the slogan "tomorrow's breakouts today" are service marks of NBIcharts LLC. All other marks are the property of their respective owners, and are used for descriptive purposes only.
BreakoutWatch is not affiliated with Investor's Business Daily or with Mr. William O'Neil. Our site, research and analysis is supported entirely by subscription and is free from advertising.