Breakoutwatch Weekly Summary 10/29/16
You are receiving this email because you are or were a BreakoutWatch.com subscriber, or have subscribed to our weekly newsletter. This newsletter summarizes the breakout events of the week and provides additional guidance that does not fit into our daily format. It is published each weekend.
Weekly Commentary
Dangers in Going Long Increase as Trends Continue Down and Election Uncertainty Mounts

Our trend indicators continue to point down and our research shows that going long carries more risk when that occurs. Our Cup and Handle Pattern backtest tool confirms that this is the case (more below).

Compounding the danger now is the latest uncertainty about the election outcome introduced by FBI Director Comey on Friday. The markets reacted negatively and we will likely see more volatility as more rumors and contradictory statements emerge in the coming days. Wikileaks may have more disclosures to come and I expect more evidence of Trump's misogyny will emerge..This October likely has more surprises in store!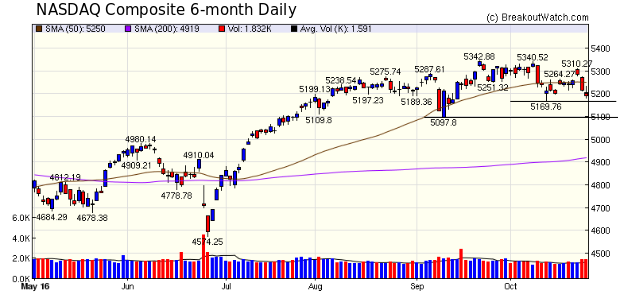 New Features this Week

No new features this week.


Strategy Suggestions
Do Not Go Long When Trends Signals are Down
The two charts below from our cup and handle backtest tool illustrate why you should not open new long positions when our trend indicators are down. The top chart shows simulated returns when not opening new positions when the NASDAQ indicator is down and the bottom when that rule is not in force. You can see that returns are dramatically different. The shaded green bands show the times when the NASDAQ trend was down.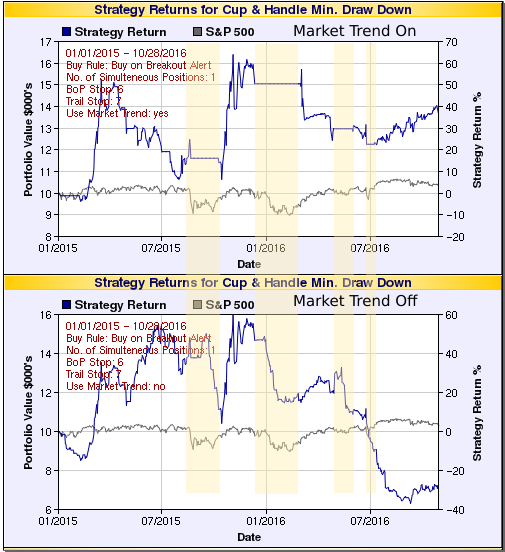 Breakouts Summary by Watchlist for Week Beginning 10/24/16

| List | Breakouts | Avg. Gain |
| --- | --- | --- |
| CwH | | 0 |
| SQZ | 5 | 1.37 |
| HTF | | 0 |
| HSB | | 0 |
| DB | | 0 |
Breakouts Detail for Week Beginning 10/24/16
Brkout Date
Symbol
Base
Squeeze
BrkoutOut Price
Brkout Day Close
RS Rank*
Last Close
Current % off BOP
Gain at Intraday High
2016-10-27
PLNT
SQZ
y
20.33
21
83
21.16
4.08%
8.95%
2016-10-28
PFG
SQZ
y
53.57
55
86
55.27
3.17%
5.13%
2016-10-28
LMAT
SQZ
y
21.12
22
94
21.58
2.18%
2.18%
2016-10-28
JPEP
SQZ
y
8.14
8
88
8.2
0.74%
3.69%
2016-10-26
GRMN
SQZ
y
49.52
50
87
47.87
-3.33%
7.67%
*RS Rank on day before breakout.
12 Month Successful Breakout History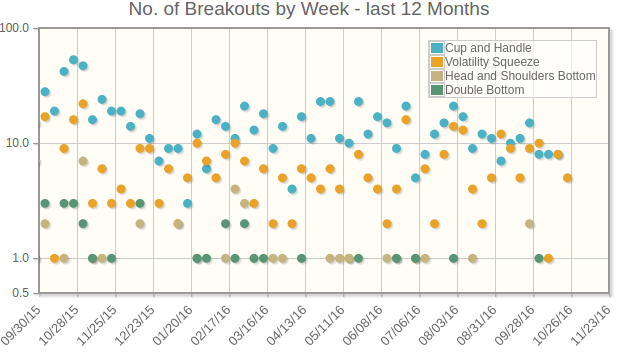 Top Rated Cup and Handle Stocks as of Friday October 28, 2016
Symbol
BO
Price
BO
Vol.
Company
Industry
RS
Rank
Last
Close
ALRM
30.00
367,791
Alarm.com Holdings - Inc.
Application Software
95
29.28
PLOW
33.75
130,474
Douglas Dynamics - Inc.
Auto Parts
93
31.60
KEYW
11.30
312,003
The KEYW Holding Corporation
Application Software
93
10.46
EMKR
6.55
399,910
EMCORE Corporation
Semiconductor - Integrated Circuits
92
6.45
These stocks meet our suggested screening factors for our Cup and Handle Chart Pattern watchlist.
See Revised Rules for Trading Cup and Handle Breakouts
>
Major Index Summary
Index
Value
Change Week
Change YTD
Trend1
Dow
18161.2

0.09%
4.22%
Down

NASDAQ
5190.1

-1.28%
3.65%
Down

S&P 500
2126.41

-0.69%
4.03%
Down


1

The Market Trend is derived from our proprietary market model. The market model is described on the site

here

.

2

The site also shows industry rankings based on fundamentals, combined technical and fundamentals, and on price alone. The site also shows daily industry movements.
Best Performing Index
1 Week
13 Weeks
26 Weeks
Year-to-Date
Dow Jones
NASDAQ Composite
0.54 %
NASDAQ Composite
8.68 %
Dow Jones
4.22 %
Best Performing Industry (by average technical score over each period)

| 1 Week | 3 Weeks | 13 Weeks | 26 Weeks |
| --- | --- | --- | --- |
| Computer Based Systems | Sporting Goods Stores | Silver | Silver |
Most Improved Industry (by change in technical rank2)
Confectioners
74
Music & Video Stores
113
Basic Materials Wholesale
146
Nonmetallic Mineral Mining
196
Charts of each industry rank and performance over 12 months are available on the site
If you received this newsletter from a friend and you would like to receive it regularly please go to the BreakoutWatch.com site and you will then be able to register to receive the newsletter.
Copyright (c) 10/29/2016 NBIcharts, LLC dba BreakoutWatch.com. All rights reserved.
" BreakoutWatch," the BreakoutWatch.com "eye" logo, and the slogan "tomorrow's breakouts today" are service marks of NBIcharts LLC. All other marks are the property of their respective owners, and are used for descriptive purposes only.
BreakoutWatch is not affiliated with Investor's Business Daily or with Mr. William O'Neil. Our site, research and analysis is supported entirely by subscription and is free from advertising.