Breakoutwatch Weekly Summary 08/19/17
You are receiving this email because you are or were a BreakoutWatch.com subscriber, or have subscribed to our weekly newsletter. This newsletter summarizes the breakout events of the week and provides additional guidance that does not fit into our daily format. It is published each weekend.
Weekly Commentary
Volatility Squeeze Pattern Outperforms Cup and Handle

Our market trend indicators remain positive after the NASDAQ composite found support on Friday at the previous Friday's low. Despite the 0.6% loss for the week, the NASDAQ recorded only one distribution day which occurred on Thursday as rumors spread that economic adviser Gary Cohn planned to resign. The market opened lower still on Friday but news of the firing of Steve Bannon lifted spirits for a while but a selloff at the close left the index with 0.1% loss on the day.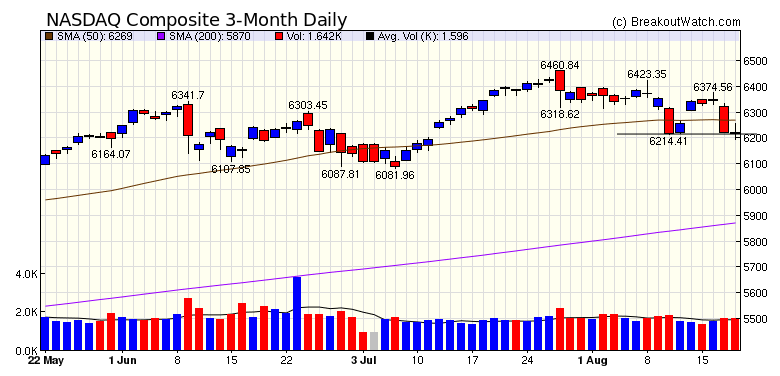 Volumes were well below average until Thursday which hurt the number of breakouts as did Thursday's loss. The result was we recorded only 5 confirmed breakouts for the week. Unusually, cup and handle pattern stocks did not perform well with the best performer of the week coming from the Volatility Squeeze pattern. See below for a recap of how that works.


New Features this Week
No new features this week
Strategy Suggestions
Our latest strategy suggestions are
here
.

The Volatility Squeeze pattern is the second most prolific performer of the patterns we study. A "Volatility Squeeze" occurs when the volatility of a stock falls below its recent levels. A fall in volatility usually means that the stock is in a period of consolidation and trending in a narrow range. When that period of consolidation ends, normal volatility will return resulting in a breakout to the upside or downside. If we can recognize a volatility squeeze situation, then we have the opportunity to place a long or short position order and profit from the breakout. We detect a "squeeze" when the 2 standard deviation Bollinger Band (BB) narrows to within the Keltner Channel (KC). Bollinger Bands are very susceptible to volatility changes while Keltner Channels are a smoother, trend following, indicator. Consequently, the narrowing of the BB to within the KC gives us a convenient means of algorithmicly recognizing a drop in volatility. However, we only publish stocks in a Volatility Squeeze when the stock is trending up with positive and increasing momentum.

This week's breakout of allograft producer MDXG provides an opportunity to review a Volatility Squeeze (SQZ) breakout in action. The chart below shows the relevant features of the SQZ. Note also that volume increased significantly and momentum became positive on the day before the breakout. We emphasize frequently that a significant volume rise increases the probability of breakout.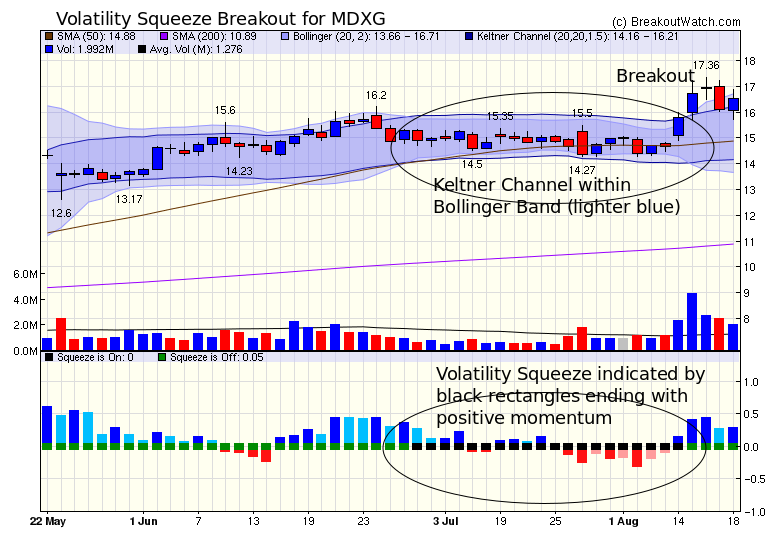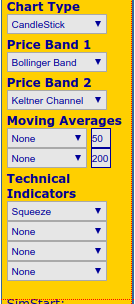 The chart above is produced using the chart settings shown on the right. Our Volatility Squeeze watchlist produces charts like this for all stocks on that watchlist.
Breakouts Summary by Watchlist for Week Beginning 08/14/17

| List | Breakouts | Avg. Gain |
| --- | --- | --- |
| CWH | 3 | -0.26 |
| SQZ | 2 | 2.3 |
| HTF | | 0 |
| HSB | | 0 |
| DB | | 0 |
Breakouts Detail for Week Beginning 08/14/17
Brkout Date
Symbol
Base
Squeeze
BrkoutOut Price
Brkout Day Close
RS Rank*
Last Close
Current % off BOP
Gain at Intraday High
2017-08-15
MDXG
SQZ
y
15.79
17
96
16.52
4.62%
9.94%
2017-08-14
BEAT
CWH
n
35.40
37
96
35.675
0.78%
4.94%
2017-08-15
CDI
CWH
n
8.25
8
85
8.275
0.3%
0.91%
2017-08-15
PRAH
SQZ
y
74.78
76
90
74.76
-0.03%
2.57%
2017-08-16
HBM
CWH
n
8.05
8
89
7.9
-1.86%
1.61%
*RS Rank on day before breakout.
Top Rated Cup and Handle Stocks as of Friday August 18, 2017
Symbol
BO
Price
BO
Vol.
Company
Industry
RS
Rank
Last
Close
LHCG
65.55
251,120
LHC Group
Home Health Care
94
64.31
NAV
31.72
1,018,276
Navistar International Corporation
Trucks & Other Vehicles
94
30.35
HOFT
44.40
111,488
Hooker Furniture Corporation
Home Furnishings & Fixtures
93
41.15
COR
111.77
481,930
CoreSite Realty Corporation
REIT - Office
93
110.14
MNTX
8.78
97,214
Manitex International
Diversified Machinery
92
8.33
These stocks meet our suggested screening factors for our Cup and Handle Chart Pattern watchlist.
See Revised Rules for Trading Cup and Handle Breakouts
Major Index Summary
Index
Value
Change Week
Change YTD
Trend1
Dow
21674.5

-0.84%
9.67%
Up

NASDAQ
6216.53

-0.64%
15.48%
Up

S&P 500
2425.55

-0.65%
8.34%
Up


1

The Market Trend is derived from our proprietary market model. The market model is described on the site

here

.

2

The site also shows industry rankings based on fundamentals, combined technical and fundamentals, and on price alone. The site also shows daily industry movements.
Best Performing Index
1 Week
13 Weeks
26 Weeks
Year-to-Date
NASDAQ Composite
Dow Jones
2.18 %
NASDAQ Composite
6.47 %
NASDAQ Composite
15.48 %
Best Performing Industry (by average technical score over each period)

| 1 Week | 3 Weeks | 13 Weeks | 26 Weeks |
| --- | --- | --- | --- |
| Appliances | Aluminum | Appliances | Resorts & Casinos |
Most Improved Industry (by change in technical rank2)
Drug Related Products
189
Foreign Utilities
162
Publishing - Books
169
Publishing - Books
202
Charts of each industry rank and performance over 12 months are available on the site
If you received this newsletter from a friend and you would like to receive it regularly please go to the BreakoutWatch.com site and you will then be able to register to receive the newsletter.
Copyright (c) 08/19/2017 NBIcharts, LLC dba BreakoutWatch.com. All rights reserved.
" BreakoutWatch," the BreakoutWatch.com "eye" logo, and the slogan "tomorrow's breakouts today" are service marks of NBIcharts LLC. All other marks are the property of their respective owners, and are used for descriptive purposes only.
BreakoutWatch is not affiliated with Investor's Business Daily or with Mr. William O'Neil. Our site, research and analysis is supported entirely by subscription and is free from advertising.