Breakoutwatch Weekly Summary 12/09/17
You are receiving this email because you are or were a BreakoutWatch.com subscriber, or have subscribed to our weekly newsletter. This newsletter summarizes the breakout events of the week and provides additional guidance that does not fit into our daily format. It is published each weekend.
Weekly Commentary
High Tight Flag Watchlist Available Again

I'm pleased to report that data errors that were corrupting this watchlist have been corrected and the watchlist is available again.

The three major indexes all slipped slightly compared to the previous Friday's close as investors approached the markets with caution ahead of the tax reform reconciliation between the different versions from the House and Senate. Critical to these negotiations this week will be the outcome of Tuesday's election in Alabama. Should the Democratic candidate win, then pressure to complete negotiations before the end of the year will intensify and nervousness among investors that this will not be achieved will likely increase. Hence the outcome of the election could have a major impact on next Wednesday's trading.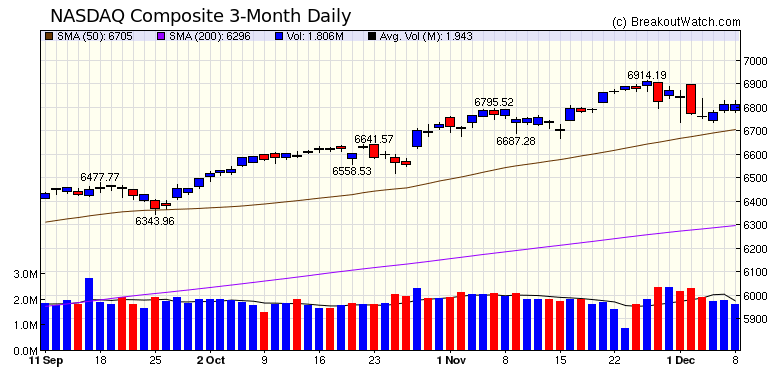 The NASDAQ started the week with a retreat on above average volume and continued with positive gains but on below average volume. The effect was to limit the number of confirmed breakouts to just 6. The strongest by far was RVNC which broke out from a cup and handle pattern on Tuesday. However, the stock gapped up at the open by more than 18% above the breakout price putting it out of our 5% range limit. The strength of this breakout is surprising considering the day before the stock lost 7% the day before.
On the other hand, ETSY, which broke out from a Volatility Squeeze pattern on Monday conformed more to our strongly suggested criteria of looking for stocks with upward momentum (meaning positive price and volume moves) in the handle or squeeze. Note the price gains on above average volume on the two days before breakout. When perusing our CWH or SQZ watchlist and charts , look for these features.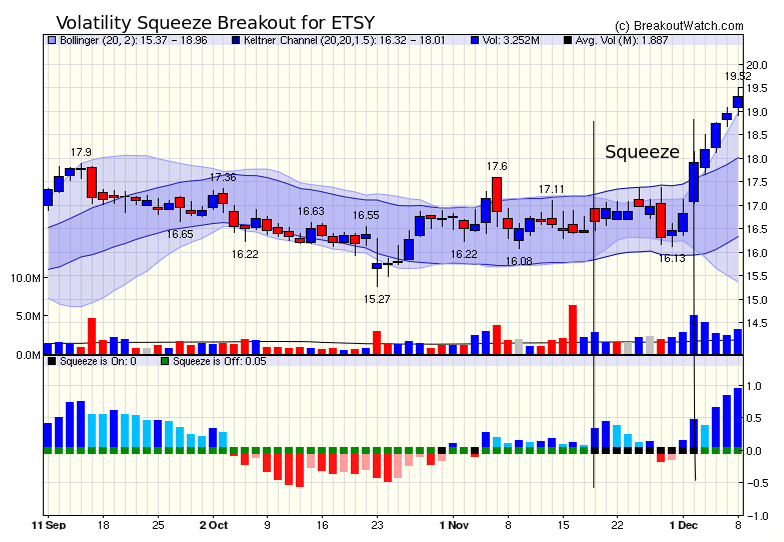 New Features this Week
No new features this week.
Strategy Suggestions
Our latest strategy suggestions are
here
.
Breakouts Summary by Watchlist for Week Beginning 12/04/17

| List | Breakouts | Avg. Gain |
| --- | --- | --- |
| CWH | 2 | 15.48 |
| SQZ | 3 | 7.14 |
| HTF | 1 | 4.41 |
| HSB | | 0 |
| DB | | 0 |
Breakouts Detail for Week Beginning 12/04/17
Brkout Date
Symbol
Base
Squeeze
BrkoutOut Price
Brkout Day Close
RS Rank*
Last Close
Current % off BOP
Gain at Intraday High
2017-12-05
RVNC
CWH
n
28.35
35
80
34.65
22.22%
31.22%
2017-12-04
ETSY
SQZ
y
16.84
18
83
19.32
14.73%
15.91%
2017-12-07
GGAL
CWH
n
59.76
62
95
64.98
8.73%
9.55%
2017-12-05
ETSY
SQZ
y
17.92
18
91
19.32
7.81%
8.93%
2017-12-06
LOV
HTF
n
11.12
11
99
11.61
4.41%
11.51%
2017-12-07
STRL
SQZ
y
17.87
18
96
17.67
-1.12%
5.76%
*RS Rank on day before breakout.
Top Rated Cup and Handle Stocks as of Friday December 08, 2017
Symbol
BO
Price
BO
Vol.
Company
Industry
RS
Rank
Last
Close
SORL
8.45
1,024,094
SORL Auto Parts - Inc. - Common Stock
Auto Manufacturers - Major
95
6.97
These stocks meet our suggested screening factors for our Cup and Handle Chart Pattern watchlist.
See Revised Rules for Trading Cup and Handle Breakouts
Major Index Summary
Index
Value
Change Week
Change YTD
Trend1
Dow
24211

-0.09%
22.51%
Up

NASDAQ
6813

-0.51%
26.56%
Up

S&P 500
2637

-0.2%
17.78%
Up


1

The Market Trend is derived from our proprietary market model. The market model is described on the site

here

.

2

The site also shows industry rankings based on fundamentals, combined technical and fundamentals, and on price alone. The site also shows daily industry movements.
Best Performing Index
1 Week
13 Weeks
26 Weeks
Year-to-Date
Dow Jones
Dow Jones
11.07 %
Dow Jones
13.82 %
NASDAQ Composite
26.56 %
Best Performing Industry (by average technical score over each period)

| 1 Week | 3 Weeks | 13 Weeks | 26 Weeks |
| --- | --- | --- | --- |
| Auto Parts Wholesale | Auto Parts Wholesale | Recreational Vehicles | Aluminum |
Most Improved Industry (by change in technical rank2)
Home Improvement Stores
99
Drug Related Products
138
Wholesale - Other
216
Wholesale - Other
216
Charts of each industry rank and performance over 12 months are available on the site
If you received this newsletter from a friend and you would like to receive it regularly please go to the BreakoutWatch.com site and you will then be able to register to receive the newsletter.
Copyright (c) 12/09/2017 NBIcharts, LLC dba BreakoutWatch.com. All rights reserved.
" BreakoutWatch," the BreakoutWatch.com "eye" logo, and the slogan "tomorrow's breakouts today" are service marks of NBIcharts LLC. All other marks are the property of their respective owners, and are used for descriptive purposes only.
BreakoutWatch is not affiliated with Investor's Business Daily or with Mr. William O'Neil. Our site, research and analysis is supported entirely by subscription and is free from advertising.