Breakoutwatch Weekly Summary 07/14/18
You are receiving this email because you are or were a BreakoutWatch.com subscriber, or have subscribed to our weekly newsletter. This newsletter summarizes the breakout events of the week and provides additional guidance that does not fit into our daily format. It is published each weekend.
Weekly Commentary
NASDAQ Consolidation Likely

I'm back from my European trip and would like to welcome new subscribers that joined while I was away. For their benefit, I note that we focus on the NASDAQ exchange in our newsletter, as that is where most breakouts from our patterns occur.

The NASDAQ set another new high on Friday at 7843 but as the inset on the chart below shows the index pulled back into a doji candlestick. A doji shows balance between buyers and sellers. It implies indecision and that a change in trend may be near. The 6-month chart shows that Friday's high touched the longer term trend line of new highs. Note that these new highs have been followed by pull-backs, so I would not be surprised to see a consolidation in the near future. For the year, the NASDAQ has gained over 13% leaving the S&P 500 (4.8%) and the DJI (1.2%) well behind.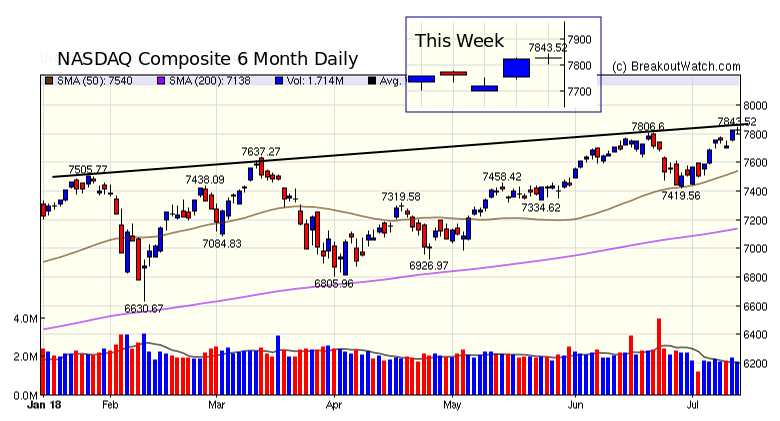 Volumes were typically below the 50 day average limiting the number of cup and handle breakouts. The top performer, MYGN gapped up from low in the handle but could have been bought at just above the pivot price. An indication that a breakout was possible was the sudden increase in volume the day before breakout.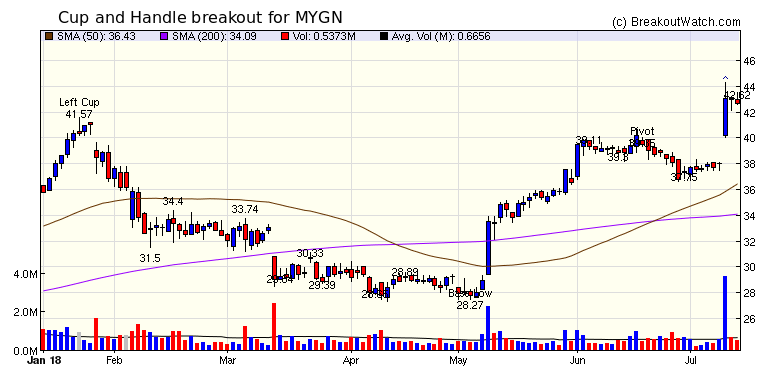 New Features this Week

No new features this week

Strategy Suggestions
Our latest strategy suggestions are
here
.
How to Search our Database
A feature of our site that is often overlooked is the 'Database Search' option on the Mine for Candidates menu. Although this feature dates back to the early days of the site, it remains a powerful method of searching for potential future breakouts.
To summarize, the database search allows you to select stocks by several criteria:
Top 100 stock by technical, fundamental or combined technical and fundamental criteria
By specific technical and fundamental ratings (CE Cell and Zone)
By specific technical criteria
By specific fundamental criteria matching the 11 CAN SLIM fundamental requirements
These selection criteria can be applied to all stocks, to our watchlists or to stocks still building their bases (Basewatch).
Here is an example of searching Basewatch for stocks with the best combined technical and fundamental criteria:
Choose Stock Group Basewatch
Click Clear Search Criteria
Choose CE cell 4-4 (highest
Choose a sort order (RS Rank)
Click Search Database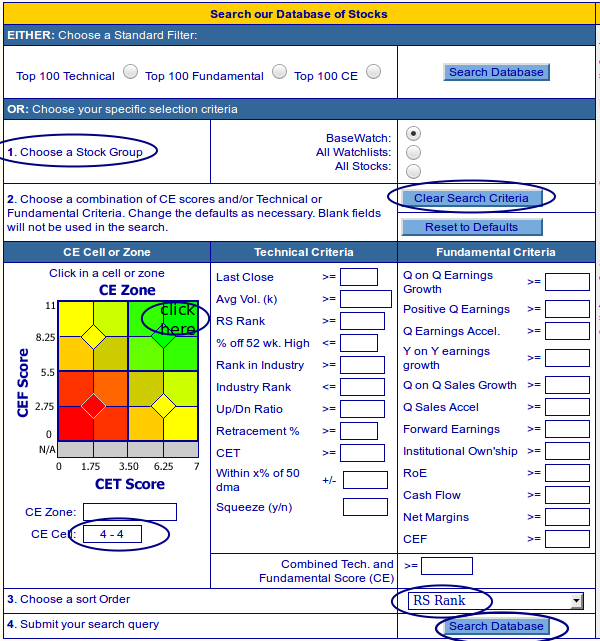 This yields the following results. The Tabs can be clicked to show Core, Technical,Industry or Fundamental Indicators.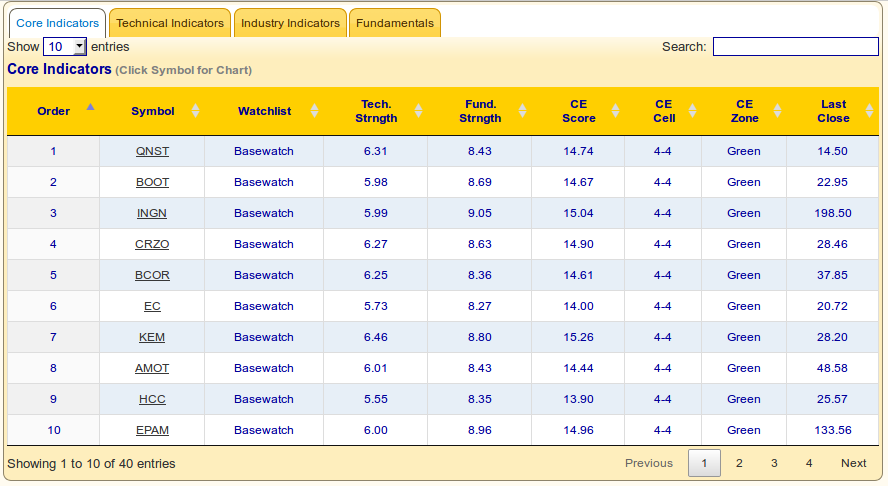 Breakouts Summary by Watchlist for Week Beginning 07/09/18

| List | Breakouts | Avg. Gain |
| --- | --- | --- |
| CWH | 3 | 5.09 |
| SQZ | 6 | 2.07 |
| HTF | | 0 |
| HSB | | 0 |
| DB | | 0 |
Breakouts Detail for Week Beginning 07/09/18
Brkout Date
Symbol
Base
Squeeze
BrkoutOut Price
Brkout Day Close
RS Rank*
Last Close
Current % off BOP
Gain at Intraday High
2018-07-11
MYGN
CWH
n
39.35
43.04
85
42.69
8.49%
8.31%
2018-07-09
GLOB
CWH
n
56.22
56.76
83
58.95
4.86%
2.54%
2018-07-09
EPAM
SQZ
y
128.27
130.48
86
133.56
4.12%
3.32%
2018-07-12
ATVI
SQZ
y
78.62
81.37
84
81.5
3.66%
1.65%
2018-07-12
TSS
SQZ
y
88.20
91.18
80
90.28
2.36%
2.06%
2018-07-09
PNK
SQZ
y
34.36
34.39
86
35.04
1.98%
1.66%
2018-07-12
EGHT
CWH
n
20.75
21.65
88
21.15
1.93%
0.72%
2018-07-12
NXST
SQZ
y
81.01
84
84
82.5
1.84%
1.28%
2018-07-12
SRNE
SQZ
y
7.21
7.5
97
7.1
-1.53%
-1.53%
*RS Rank on day before breakout.
Top Rated Cup and Handle Stocks as of Friday July 13, 2018
Symbol
BO
Price
BO
Vol.
Company
Industry
RS
Rank
Last
Close
WTI
8.10
6,365,532
W&T Offshore - Inc. Common Stock
Oil & Gas Drilling & Exploration
98
8.08
AMEH
27.20
113,594
Apollo Medical Holdings - Inc. - Common Stock
Specialized Health Services
97
23.30
MIXT
18.78
208,444
MiX Telematics Limited American Depositary Shares,
Technical & System Software
95
18.53
ANF
27.27
4,138,924
Abercrombie & Fitch Company Common Stock
Apparel Stores
95
25.16
These stocks meet our suggested screening factors for our Cup and Handle Chart Pattern watchlist.
See Revised Rules for Trading Cup and Handle Breakouts
Major Index Summary
Index
Value
Change Week
Change YTD
Trend1
Dow
25019.4

2.3%
1.21%
Up

NASDAQ
7825.98

1.79%
13.36%
Up

S&P 500
2801.31

1.5%
4.78%
Up


1

The Market Trend is derived from our proprietary market model. The market model is described on the site

here

.

2

The site also shows industry rankings based on fundamentals, combined technical and fundamentals, and on price alone. The site also shows daily industry movements.
Best Performing Index
1 Week
13 Weeks
26 Weeks
Year-to-Date
Dow Jones
NASDAQ Composite
10.12 %
NASDAQ Composite
7.78 %
NASDAQ Composite
13.36 %
Best Performing Industry (by average technical score over each period)

| 1 Week | 3 Weeks | 13 Weeks | 26 Weeks |
| --- | --- | --- | --- |
| Manufactured Housing | Manufactured Housing | Manufactured Housing | Home Health Care |
Most Improved Industry (by change in technical rank2)
General Contractors
40
REIT - Healthcare Facilities
81
Long Distance Carriers
175
Manufactured Housing
213
Charts of each industry rank and performance over 12 months are available on the site
If you received this newsletter from a friend and you would like to receive it regularly please go to the BreakoutWatch.com site and you will then be able to register to receive the newsletter.
Copyright (c) 07/14/2018 NBIcharts, LLC dba BreakoutWatch.com. All rights reserved.
" BreakoutWatch," the BreakoutWatch.com "eye" logo, and the slogan "tomorrow's breakouts today" are service marks of NBIcharts LLC. All other marks are the property of their respective owners, and are used for descriptive purposes only.
BreakoutWatch is not affiliated with Investor's Business Daily or with Mr. William O'Neil. Our site, research and analysis is supported entirely by subscription and is free from advertising.