Breakoutwatch Weekly Summary 07/21/18
You are receiving this email because you are or were a BreakoutWatch.com subscriber, or have subscribed to our weekly newsletter. This newsletter summarizes the breakout events of the week and provides additional guidance that does not fit into our daily format. It is published each weekend.
Weekly Commentary
NASDAQ Consolidation Begins as Selling Volume Increases
Last weeks prediction that the NASDAQ could be ready for consolidation did not come true immediately. The index did close with a small loss on Monday but then went on to set another new high on Tuesday led by Amazon, Alphabet, Microsoft and Charles Schwab. The momentum did not carry through though, and the rest of the week brought small losses as selling volume increased. Wednesday delivered a distribution day and Thursday also saw a loss on above average volume. Friday delivered another loss following end of session selling across all three major indexes as investors reacted to further threats from Trump of tariffs on $500 billion worth of Chinese goods and further criticism of the Fed. The NASDAQ closed with a small loss of 0.7% for the week.

The chart below shows average volumes have fallen since early July as investors depart on vacation. This is particularly true on Friday's as yesterday's volume shows. Consequently, breakouts on above average volume have diminished and this pattern will likely continue through August.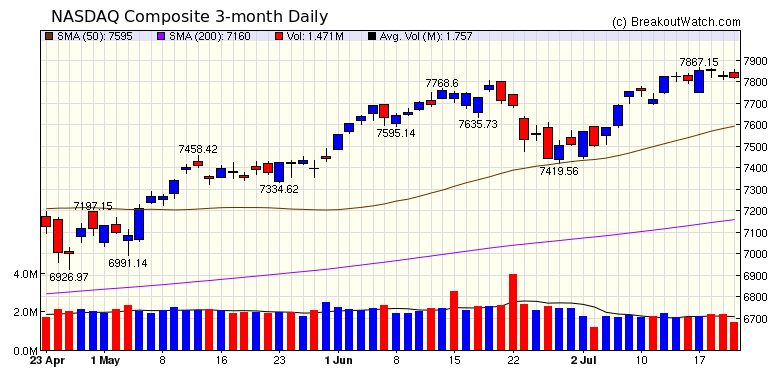 New Features this Week

No new features this week

Strategy Suggestions
Our latest strategy suggestions are
here
.
Breakouts Summary by Watchlist for Week Beginning 07/16/18

| List | Breakouts | Avg. Gain |
| --- | --- | --- |
| CWH | 3 | 1.37 |
| SQZ | 2 | 5.92 |
| HTF | | 0 |
| HSB | | 0 |
| DB | 1 | 2.94 |
Breakouts Detail for Week Beginning 07/16/18
Brkout Date
Symbol
Base
Squeeze
BrkoutOut Price
Brkout Day Close
RS Rank*
Last Close
Current % off BOP
Gain at Intraday High
2018-07-16
VFC
SQZ
y
84.85
88.8
84
92.94
9.53%
7.26%
2018-07-20
BMI
DB
n
51.05
52.55
79
52.55
2.94%
-0.59%
2018-07-17
ZFGN
CWH
n
10.35
10.56
97
10.65
2.9%
2.22%
2018-07-18
SHOO
SQZ
y
53.91
55.5
83
55.15
2.3%
2.39%
2018-07-20
ECHO
CWH
n
31.25
31.45
85
31.45
0.64%
-2.4%
2018-07-19
HCA
CWH
n
107.38
107.7
81
108
0.58%
-0.32%
*RS Rank on day before breakout.
Top Rated Cup and Handle Stocks as of Friday July 20, 2018
Symbol
BO
Price
BO
Vol.
Company
Industry
RS
Rank
Last
Close
These stocks meet our suggested screening factors for our Cup and Handle Chart Pattern watchlist.
See Revised Rules for Trading Cup and Handle Breakouts
Major Index Summary
Index
Value
Change Week
Change YTD
Trend1
Dow
25058.1

0.15%
1.37%
Up

NASDAQ
7820.2

-0.07%
13.28%
Up

S&P 500
2801.83

0.02%
4.8%
Up


1

The Market Trend is derived from our proprietary market model. The market model is described on the site

here

.

2

The site also shows industry rankings based on fundamentals, combined technical and fundamentals, and on price alone. The site also shows daily industry movements.
Best Performing Index
1 Week
13 Weeks
26 Weeks
Year-to-Date
Dow Jones
NASDAQ Composite
9.43 %
NASDAQ Composite
6.59 %
NASDAQ Composite
13.28 %
Best Performing Industry (by average technical score over each period)

| 1 Week | 3 Weeks | 13 Weeks | 26 Weeks |
| --- | --- | --- | --- |
| Manufactured Housing | Manufactured Housing | Manufactured Housing | Home Health Care |
Most Improved Industry (by change in technical rank2)
Dairy Products
86
Dairy Products
101
Long Distance Carriers
170
Manufactured Housing
197
Charts of each industry rank and performance over 12 months are available on the site
If you received this newsletter from a friend and you would like to receive it regularly please go to the BreakoutWatch.com site and you will then be able to register to receive the newsletter.
Copyright (c) 07/21/2018 NBIcharts, LLC dba BreakoutWatch.com. All rights reserved.
" BreakoutWatch," the BreakoutWatch.com "eye" logo, and the slogan "tomorrow's breakouts today" are service marks of NBIcharts LLC. All other marks are the property of their respective owners, and are used for descriptive purposes only.
BreakoutWatch is not affiliated with Investor's Business Daily or with Mr. William O'Neil. Our site, research and analysis is supported entirely by subscription and is free from advertising.