Breakoutwatch Weekly Summary 10/13/18
You are receiving this email because you are or were a BreakoutWatch.com subscriber, or have subscribed to our weekly newsletter. This newsletter summarizes the breakout events of the week and provides additional guidance that does not fit into our daily format. It is published each weekend.
Weekly Commentary
Hammer Doji Suggests Possible Reversal, be Patient Until at Least Monday's Close

The NASDAQ Composite fell 3.7% this week but appeared on Friday to find support at just below the 200 day average level although it closed barely under that level (7496.89 versus 7497.85). Friday's trading suggested a "Hammer Doji" candlestick pattern. "The Hammer candlestick formation is viewed as a bullish reversal candlestick pattern that mainly occurs at the bottom of downtrends." - (OnLine Trading Concepts). The pattern is considered bullish as it implies sellers are exhausted and buyers (or short coverers) have entered the market. The reversal may be confirmed if Monday's trading continues the upward trend, so be patient until Monday's close. Our market trend signal has been negative all week and to be really conservative I suggest waiting until that signal reverses before re-entering the market.

Many explanations have been given for the downturn that accelerated on Wednesday but Barry Ritholz may have the likeliest answer here.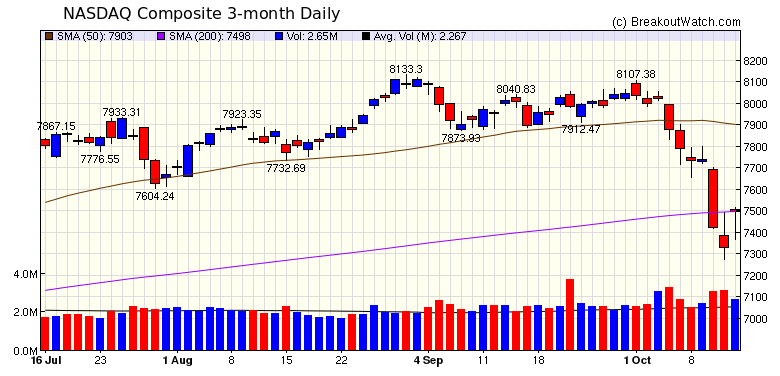 Needless to say, this was not a happy week for breakout stocks. Of the 4, only one, RDNT, remains barely positive.

New Features this Week

No new features this week

Strategy Suggestions
Our latest strategy suggestions are
here
.
Breakouts Summary by Watchlist for Week Beginning 10/08/18

| List | Breakouts | Avg. Gain |
| --- | --- | --- |
| CWH | 3 | 0.5 |
| SQZ | 1 | -4.96 |
| HTF | | 0 |
| HSB | | 0 |
| DB | | 0 |
Breakouts Detail for Week Beginning 10/08/18
Brkout Date
Symbol
Base
Squeeze
BrkoutOut Price
Brkout Day Close
RS Rank*
Last Close
Current % off BOP
Gain at Intraday High
2018-10-12
RDNT
CWH
n
15.31
15.62
82
15.62
2.02%
0.26%
2018-10-12
XOXO
CWH
n
34.63
34.79
94
34.79
0.46%
-0.46%
2018-10-12
EPM
CWH
n
11.16
11.05
92
11.05
-0.99%
-2.42%
2018-10-12
EHTH
SQZ
y
29.45
27.99
94
27.99
-4.96%
-7.64%
*RS Rank on day before breakout.
Top Rated Cup and Handle Stocks as of Friday October 12, 2018
Symbol
BO
Price
BO
Vol.
Company
Industry
RS
Rank
Last
Close
These stocks meet our suggested screening factors for our Cup and Handle Chart Pattern watchlist.
See Revised Rules for Trading Cup and Handle Breakouts
Major Index Summary
Index
Value
Change Week
Change YTD
Trend1
Dow
25340

-4.19%
2.51%
Down

NASDAQ
7496.89

-3.74%
8.6%
Down

S&P 500
2767.13

-4.1%
3.5%
Down


1

The Market Trend is derived from our proprietary market model. The market model is described on the site

here

.

2

The site also shows industry rankings based on fundamentals, combined technical and fundamentals, and on price alone. The site also shows daily industry movements.
Best Performing Index
1 Week
13 Weeks
26 Weeks
Year-to-Date
NASDAQ Composite
Dow Jones
-4.21 %
NASDAQ Composite
5.49 %
NASDAQ Composite
8.6 %
Best Performing Industry (by average technical score over each period)

| 1 Week | 3 Weeks | 13 Weeks | 26 Weeks |
| --- | --- | --- | --- |
| Auto Parts Stores | Auto Parts Stores | Auto Parts Stores | Auto Parts Stores |
Most Improved Industry (by change in technical rank2)
Gold
117
Foreign Utilities
211
Foreign Utilities
210
REIT - Healthcare Facilities
189
Charts of each industry rank and performance over 12 months are available on the site
If you received this newsletter from a friend and you would like to receive it regularly please go to the BreakoutWatch.com site and you will then be able to register to receive the newsletter.
Copyright (c) 10/13/2018 NBIcharts, LLC dba BreakoutWatch.com. All rights reserved.
" BreakoutWatch," the BreakoutWatch.com "eye" logo, and the slogan "tomorrow's breakouts today" are service marks of NBIcharts LLC. All other marks are the property of their respective owners, and are used for descriptive purposes only.
BreakoutWatch is not affiliated with Investor's Business Daily or with Mr. William O'Neil. Our site, research and analysis is supported entirely by subscription and is free from advertising.