Breakoutwatch Weekly Summary 12/07/19
You are receiving this email because you are or were a BreakoutWatch.com subscriber, or have subscribed to our weekly newsletter. This newsletter summarizes the breakout events of the week and provides additional guidance that does not fit into our daily format. It is published each weekend.
Weekly Commentary
Good Week for Breakouts. Strategy Suggestions: Real Time Alerts Tutorial

The NASDAQ gave up just 0.1% this week after being saved by a stronger than expected jobs report on Friday. The week began badly when Trump suggested a trade deal with China could wait until after the 2020 election and the ISM Manufacturing index for November was weaker than expected. The decline was arrested on Wednesday when the good old chestnut of trade talks nearing a deal was trotted out and the indexes started to recover.

The recovery which began on Tuesday delivered 14 breakouts by Friday's close. The cup and handle pattern watchlist delivered 8breakouts averaging 4.7% and the Volatility Squeeze pattern delivered 6 breakouts averaging 4.2%.

Friday's action gave me an opportunity to demonstrate how our real time alerts page on the site can be used to time an entry into a position. See Strategy Suggestions below.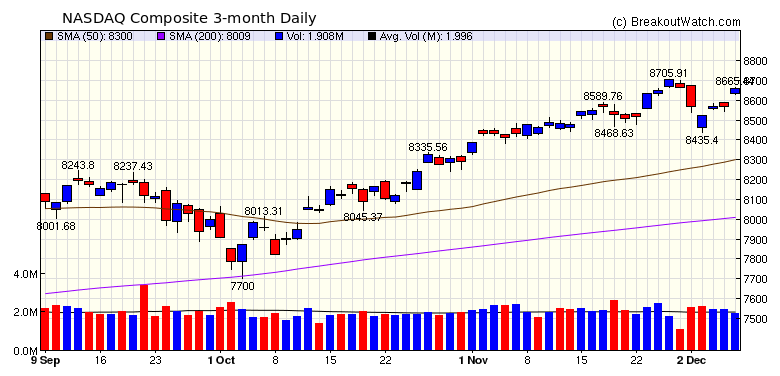 New Features this Week
Obtain a T/A Chart from an intraday chart

When clicking on a symbol in our Alerts Issued Today page an intraday chart is shown with price and volume data. There is now a button that will show a 3-month T/A chart which puts the intraday chart into perspective. I've produced a tutorial on how to benefit from this below.

Strategy Suggestions
Our latest strategy suggestions are
here
.
Tutorial: How to Use Intraday Chart to time an entry.
The images below show how to time your entry from watching the Alerts Issued Today page. (These images were captured after the close of business. In real time you would see the intraday chart as at the time you looked).
1. Cup and Handle Example
On the Alerts page, the smiley under the 'Current Status column indicates where the stock is situated following breakout. The first three smikeys shown below indicate ADUS is still above its breakout price. CRAI has fallen below its breakout price, and CMLS is both above its breakout price and above the breakout volume requirement. When you see that happy smiley face, its time to click on the symbol and an intraday chart will pop up. The actual time at which the happy smiley appears is shown by the vertical line I imposed on the chart.
We see that indeed the stock is above its breakout price and the 150% volume requirement is met. Now it's time to click on the T/A Daily chart button.
The daily chart shows that prior to today, the stock has been ascending the right side of the cup quite rapidly before profit taking set the pivot and the stock formed a handle. The rapid rise shows a lot of buyer interest - which could continue after the breakout, and the intraday chart shows the breakout could be a strong one. This could therefor be an excellenttime to make an entry.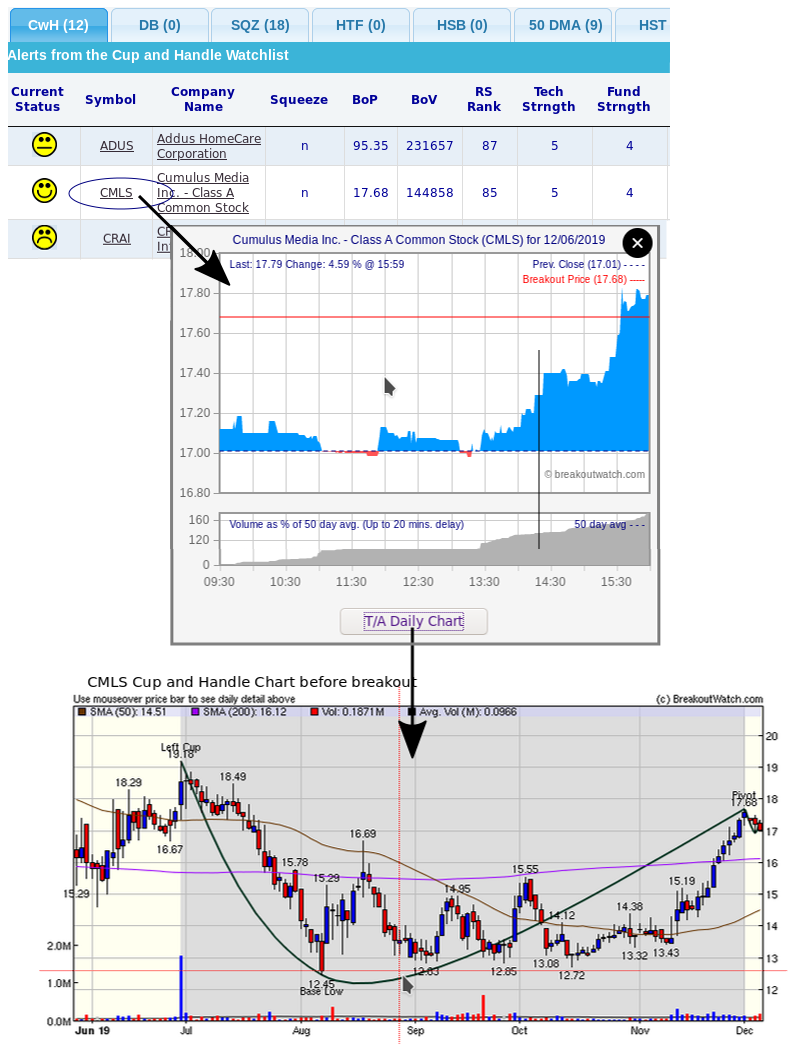 2. Volatility Squeeze Breakout
Let's look at an example of a Volatility Squeeze example. As above we open the intraday chart when we see the happy Smiley Face. In this case the volume requirement is only 100% of the 50 day average and the verticle line I superimposed shows the point at which the smiley turned happy. Looking at the T/A Chart shows that there was strong buyer interest in the days prior to breakout which may indicate that the breakout will continue.
Caveat
These two example indicate how you can use the Alerts page, smiley indicators, intraday and T/A charts to assist your buying decision. There are no guarantees however that trades made following these suggestions will ultimately be profitable. To limit you risk after entering a trade I suggest you use our
Trailing Stop Calculator
to set a trailing stop.
Breakouts Summary by Watchlist for Week Beginning 12/02/19

| List | Breakouts | Avg. Gain |
| --- | --- | --- |
| CWH | 8 | 4.69 |
| SQZ | 6 | 4.19 |
| HTF | | 0 |
| HSB | | 0 |
| DB | | 0 |
Breakouts Detail for Week Beginning 12/02/19
Brkout Date
Symbol
Base
Squeeze
Brkout Price
Brkout Day Close
RS Rank*
Last Close
Current % off BOP
Gain at Intraday High
2019-12-06
ZUMZ
SQZ
y
30.57
35.47
91
35.47
16.03%
16.72%
2019-12-05
POWL
CWH
n
42.88
45.43
85
49.04
14.37%
14.55%
2019-12-06
EPZM
CWH
n
17.00
18.22
94
18.22
7.18%
8.18%
2019-12-06
IMMU
CWH
n
19.52
20.59
94
20.59
5.48%
7.17%
2019-12-02
EVFM
CWH
n
6.55
6.86
92
6.88
5.04%
14.5%
2019-12-04
RUSHA
CWH
n
46.32
47.82
86
47.64
2.85%
4.53%
2019-12-02
ICAD
SQZ
y
7.52
7.7
95
7.71
2.53%
5.45%
2019-12-06
NFE
SQZ
y
16.24
16.62
80
16.62
2.34%
3.53%
2019-12-04
CATS
SQZ
y
17.02
17.29
91
17.36
2%
3.88%
2019-12-06
FTDR
SQZ
y
45.33
45.97
86
45.97
1.41%
2.01%
2019-12-03
IOVA
CWH
n
24.38
24.5
97
24.72
1.39%
2.54%
2019-12-06
PSMT
SQZ
y
74.07
74.7
88
74.7
0.85%
1.16%
2019-12-04
TTMI
CWH
n
13.71
13.72
88
13.8
0.66%
1.17%
2019-12-06
CMLS
CWH
n
17.68
17.77
85
17.77
0.51%
0.96%
*RS Rank on day before breakout.
Top Rated Cup and Handle Stocks as of Friday December 06, 2019
Symbol
BO
Price
BO
Vol.
Company
Industry
RS
Rank
Last
Close
AFIN
15.18
895,182
American Finance Trust - Inc.
REIT - Diversified
90
14.42
ASUR
9.42
646,629
Asure Software Inc
Software - Application
89
8.13
NUAN
18.19
3,917,754
Nuance Communications - Inc.
Software - Application
85
17.89
These stocks meet our suggested screening factors for our Cup and Handle Chart Pattern watchlist.
See Revised Rules for Trading Cup and Handle Breakouts
Major Index Summary
Index
Value
Change Week
Change YTD
Trend1
Dow
28015.1

-0.13%
20.09%
Up

NASDAQ
8656.53

-0.1%
30.46%
Up

S&P 500
3145.91

0.16%
25.49%
Up


1

The Market Trend is derived from our proprietary market model. The market model is described on the site

here

.

2

The site also shows industry rankings based on fundamentals, combined technical and fundamentals, and on price alone. The site also shows daily industry movements.
Best Performing Index
1 Week
13 Weeks
26 Weeks
Year-to-Date
S&P 500
0.16 %
NASDAQ Composite
6.83 %
NASDAQ Composite
11.81 %
NASDAQ Composite
30.46 %
Best Performing Industry

| 1 Week | 3 Weeks | 13 Weeks | 26 Weeks |
| --- | --- | --- | --- |
| Electric Utilities | Electric Utilities | Water Utilities | Water Utilities |
Most Improved Industry (by change in technical rank2)
Computer Peripherals
58
Textile Industrial
102
Drug Delivery
203
Drug Delivery
206
Charts of each industry rank and performance over 12 months are available on the site
If you received this newsletter from a friend and you would like to receive it regularly please go to the BreakoutWatch.com site and you will then be able to register to receive the newsletter.
Copyright (c) 12/07/2019 NBIcharts, LLC dba BreakoutWatch.com. All rights reserved.
" BreakoutWatch," the BreakoutWatch.com "eye" logo, and the slogan "tomorrow's breakouts today" are service marks of NBIcharts LLC. All other marks are the property of their respective owners, and are used for descriptive purposes only.
BreakoutWatch is not affiliated with Investor's Business Daily or with Mr. William O'Neil. Our site, research and analysis is supported entirely by subscription and is free from advertising.