Breakoutwatch Weekly Summary 04/18/20
You are receiving this email because you are or were a BreakoutWatch.com subscriber, or have subscribed to our weekly newsletter. This newsletter summarizes the breakout events of the week and provides additional guidance that does not fit into our daily format. It is published each weekend.
Weekly Commentary
Trend Signals are Positive for Major Indexes

Our NASDAQ Comp., DJI and S&P 500 trend signals turned positive this week. The NASDAQ is in the strongest position with the index being above both its 200 day and 50 day moving averages, but neither the DJI or S&P are in such a strong position. The strength of the rally is really quite surprising considering the state of the economy, and may represent an overly optimistic view that earnings will soon return to pre-covid levels. Consider this summary from briefing.com of the economic news this week:

The nation's largest banks, including JPMorgan Chase (JPM), Bank of America (BAC), Citigroup (C), and Wells Fargo (WFC), recorded huge increases in their provisions for credit losses as they readied themselves for a possible wave of charge-offs.
The May contract for WTI crude futures plummeted 21.8% to $18.14/bbl.
Retail sales declined 8.7% m/m in March, which is the largest drop on record.
Industrial production declined 5.4% m/m in March, which was the worst downturn since 1946.
The Empire State Manufacturing Survey plummeted to -78.2, which is its lowest level on record.
The Philadelphia Fed Index dropped to -56.6, which was its lowest reading since July 1980.
The NAHB Housing Market Index, which is a gauge of homebuilder sentiment, plunged to 30.0 for April (a record low) from 72.0 in March.
Housing starts declined 22.3% m/m in March to a seasonally adjusted annual rate of 1.216 million units, marking the biggest drop since March 1984.
The Leading Economic Index for March declined 6.7% m/m, which was the worst decline in the 60-year history of the index.
The Paycheck Protection Program reached its $350 billion limit, leaving millions of small business owners in need of support.
Initial claims for the week ending April 11 totaled 5.245 million, bringing the four-week total for initial claims to 22.034 million. Continuing claims for the week ending April 4 hit a record 11.976 million.
As earnings season proceeds, it is likely that forward guidance will temper some of the market's optimism, so I am personally rather cautious and expect a correction before too long.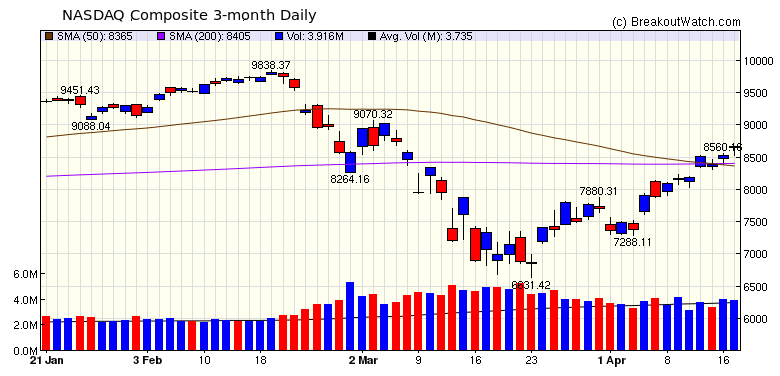 Chart of the Week
I applied my preferred filter (above average volume and under accumulation) to our cup and handle watchlist and found 4 stocks that met the criteria. I then used the Chart Browser to examine the charts of each and found the chart for NIC to be the most interesting. NIC provides digital services to Federal, State and local governments and was recently highlighted by IBD as a coronavirus stock to watch.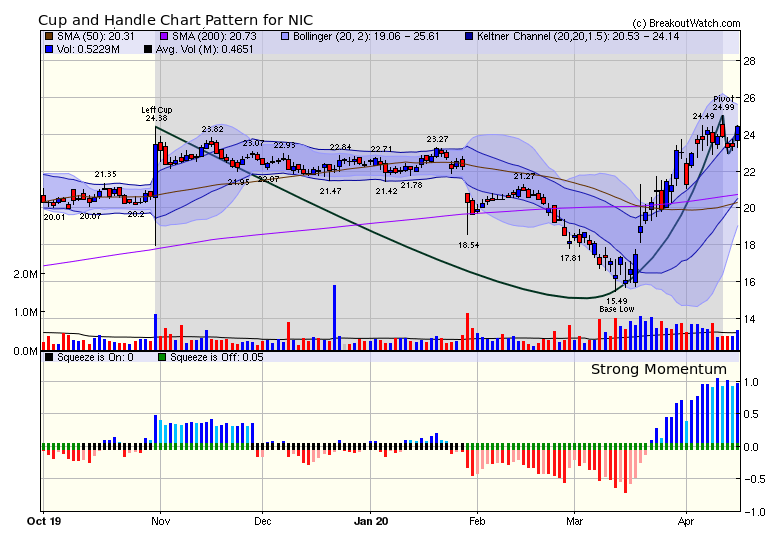 New Features this Week

No new features this week

Strategy Suggestions
Our latest strategy suggestions are
here
.
Breakouts Summary by Watchlist for Week Beginning 04/13/20

| List | Breakouts | Avg. Gain |
| --- | --- | --- |
| CWH | 4 | 2.35 |
| SQZ | 4 | -0.97 |
| HTF | | 0 |
| HSB | | 0 |
| DB | | 0 |
Breakouts Detail for Week Beginning 04/13/20
Brkout Date
Symbol
Base
Squeeze
Brkout Price
Brkout Day Close
RS Rank*
Last Close
Current % off BOP
Gain at Intraday High
2020-04-13
FENC
SQZ
y
6.47
7.23
95
6.99
8.04%
23.49%
2020-04-14
QTS
CWH
n
61.33
63.51
94
64.13
4.57%
6.24%
2020-04-16
WERN
CWH
n
39.23
39.35
91
40.11
2.24%
3.21%
2020-04-13
CTSO
CWH
n
7.73
8
96
7.84
1.42%
21.6%
2020-04-16
SLGN
CWH
n
32.66
33.4
89
33.04
1.16%
3.97%
2020-04-15
ARCE
SQZ
y
46.12
47.39
88
45.89
-0.5%
5.51%
2020-04-15
LAKE
SQZ
y
16.51
17.2
96
16.12
-2.36%
9.02%
2020-04-14
STSA
SQZ
y
19.29
20.04
96
17.54
-9.07%
8.86%
*RS Rank on day before breakout.
Top Rated Cup and Handle Stocks as of Friday April 17, 2020
Symbol
BO
Price
BO
Vol.
Company
Industry
RS
Rank
Last
Close
FIT
6.80
12,154,641
Fitbit - Inc. Class A Common Stock
Scientific & Technical Instruments
95
6.67
EGO
9.51
7,119,194
Eldorado Gold Corporation Ordinary Shares
Gold
94
8.31
GFI
7.43
15,220,576
Gold Fields Limited American Depositary Shares
Gold
93
6.35
AGI
7.60
6,075,838
Alamos Gold Inc. Class A Common Shares
Gold
92
6.38
AQN
14.53
1,704,741
Algonquin Power & Utilities Corp. Common Shares
Utilities - Renewable
89
14.10
TEVA
10.66
35,243,912
Teva Pharmaceutical Industries Limited American De
Drug Manufacturers - Specialty & Generic
89
10.27
AKTS
8.11
994,653
Akoustis Technologies - Inc. - Common Stock
Communication Equipment
86
7.56
EQX
8.05
1,906,204
Equinox Gold Corp. Common Shares
Gold
85
7.41
These stocks meet our suggested screening factors for our Cup and Handle Chart Pattern watchlist.
See Revised Rules for Trading Cup and Handle Breakouts
Major Index Summary
Index
Value
Change Week
Change YTD
Trend1
Dow
24242.5

2.21%
-15.05%
Up

NASDAQ
8650.14

6.09%
-3.59%
Up

S&P 500
2874.56

3.04%
-11.03%
Up


1

The Market Trend is derived from our proprietary market model. The market model is described on the site

here

.

2

The site also shows industry rankings based on fundamentals, combined technical and fundamentals, and on price alone. The site also shows daily industry movements.
Best Performing Index
1 Week
13 Weeks
26 Weeks
Year-to-Date
NASDAQ Composite
NASDAQ Composite
-7.87
NASDAQ Composite
6.93
NASDAQ Composite
-3.59
Best Performing Industry

| 1 Week | 3 Weeks | 13 Weeks | 26 Weeks |
| --- | --- | --- | --- |
| Shell Companies | Shell Companies | | |
Most Improved Industry (by change in technical rank2)
Other Precious Metals & Mining
82
Gold
110
Grocery Stores
198
Gold
187
Charts of each industry rank and performance over 12 months are available on the site
If you received this newsletter from a friend and you would like to receive it regularly please go to the BreakoutWatch.com site and you will then be able to register to receive the newsletter.
Copyright (c) 04/18/2020 NBIcharts, LLC dba BreakoutWatch.com. All rights reserved.
" BreakoutWatch," the BreakoutWatch.com "eye" logo, and the slogan "tomorrow's breakouts today" are service marks of NBIcharts LLC. All other marks are the property of their respective owners, and are used for descriptive purposes only.
BreakoutWatch is not affiliated with Investor's Business Daily or with Mr. William O'Neil. Our site, research and analysis is supported entirely by subscription and is free from advertising.