Breakoutwatch Weekly Summary 09/25/21
You are receiving this email because you are or were a BreakoutWatch.com subscriber, or have subscribed to our weekly newsletter. This newsletter summarizes the breakout events of the week and provides additional guidance that does not fit into our daily format. It is published each weekend.
Newsletter Archive: https://www.breakoutwatch.com/content/newsletters
Weekly Commentary
NASDAQ Shrugs Off China Contagion Fears and Investors Buy the Dip

The week started with fears that a possible default by Chinese property developer Evergrande would destabilize world markets adding to worries that a correction is near as debt ceiling and infrastructure talks appear close to failing. This led to a sharp drop in the markets on Monday, taking the NASDAQ to below the 50 day average. The threat to world markets was soon seen as exaggerated and investors saw another opportunity to buy the dip. The NASDAQ is now just 3% below its September 7 high. However, failure to raise the debt ceiling and the defeat of the Biden agenda by factions in his own party would certainly threaten the continued economic recovery as many of the programs that have supported the economy over the last 18 months have been, or soon will be, withdrawn.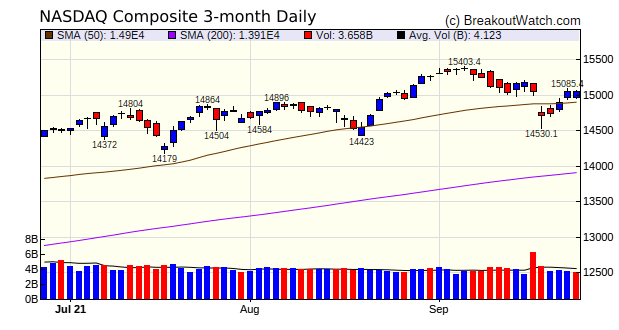 The problems with the site over the last month are now mostly resolved and I can return to its continued enhancement. Please tell me if any functions are not working as expected.
Chart of the Week
The financial sector gained 2.2% this week after the Fed's statement on Wednesday said that "our interest rate and balance sheet tools is providing powerful support of the economy and will continue to do so".

This chart shows that Charles Schwab reacted positively to statement and could be poised to breakout on Monday.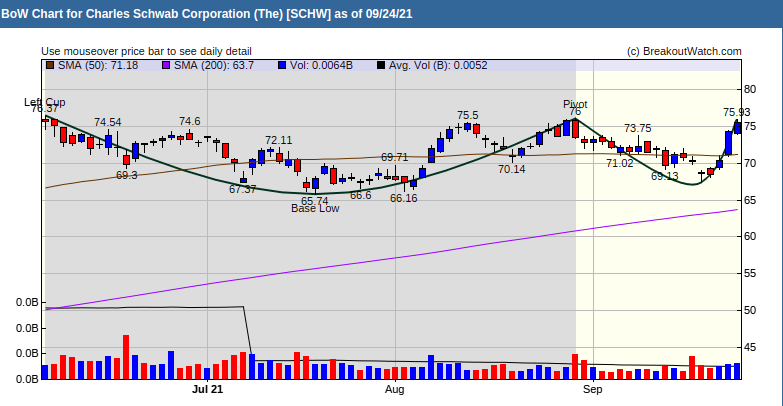 New Features this Week

No new features this week

Strategy Suggestions
Our latest strategy suggestions are
here
.
Breakouts Summary by Watchlist for Week Beginning 09/20/21

| List | Breakouts | Avg. Gain |
| --- | --- | --- |
| CWH | 9 | 2.19 |
| SQZ | 42 | 1.89 |
| HTF | | 0 |
| HSB | | 0 |
| DB | | 0 |
Breakouts Gaining at Least 5% for Week Beginning 09/20/21
Brkout Date
Symbol
Base
Squeeze
Brkout Price
Brkout Day Close
RS Rank*
Last Close
Current % off BOP
Gain at Intraday High
2021-09-21
CALX
SQZ
y
47.41
47.6
92
52
9.68%
13.56%
2021-09-23
AER
SQZ
y
55.03
58.29
86
58.44
6.2%
8.03%
2021-09-23
EQBK
SQZ
y
31.92
33.6
89
33.67
5.48%
6.7%
*RS Rank on day before breakout.
CwH Stocks Likely to Close above BoP at Next Session*
Symbol
Company
Industry
RS Rank
Last Close
BoP
% off BoP
SCHW
Charles Schwab Corporation (The)
Capital Markets
88
75.59
76.00
99.46
SSBI
Summit State Bank
Banks - Regional
84
17.48
17.50
99.89
USIO
Usio, Inc.
Software - Infrastructure
96
6.28
6.67
94.15
TSQ
Townsquare Media, Inc.
Advertising Agencies
94
13.09
13.64
95.97
*These stocks were selected using our price breakout model. This model correctly selected CWH stocks that met or exceeded their breakout price with 80% probability over Jan. 2019 to Nov. 2020. This does not imply that on any one day, 80% or any of the stocks selected will meet or exceed their breakout price.
Top Rated Cup and Handle Stocks as of Friday September 24, 2021
Symbol
BO
Price
BO
Vol.
Company
Industry
RS
Rank
Last
Close
No stocks met our suggested screening factors for our Cup and Handle Chart Pattern watchlist.
See Revised Rules for Trading Cup and Handle Breakouts
Major Index Summary
Index
Value
Change Week
Change YTD
Trend1
Dow
34798

0.62%
13.7%
Up

NASDAQ
15047.7

0.02%
16.76%
Up

S&P 500
4455.48

0.51%
18.62%
Up


1

The Market Trend is derived from our proprietary market model. The market model is described on the site

here

.

2

The site also shows industry rankings based on fundamentals, combined technical and fundamentals, and on price alone. The site also shows daily industry movements.
Best Performing Index
1 Week
13 Weeks
26 Weeks
Year-to-Date
Dow Jones
NASDAQ Composite
4.79
NASDAQ Composite
14.53
S&P 500
18.62
Best Performing Industry

| 1 Week | 3 Weeks | 13 Weeks | 26 Weeks |
| --- | --- | --- | --- |
| Uranium | Thermal Coal | Uranium | Shell Companies |
Most Improved Industry (by change in technical rank2)
Aerospace & Defense
0
Aerospace & Defense
0
Aerospace & Defense
0
Aerospace & Defense
0
Charts of each industry rank and performance over 12 months are available on the site
If you received this newsletter from a friend and you would like to receive it regularly please go to the BreakoutWatch.com site and you will then be able to register to receive the newsletter.
Copyright (c) 09/25/2021 Proactive Technologies, LLC dba BreakoutWatch.com. All rights reserved.
" BreakoutWatch," the BreakoutWatch.com "eye" logo, and the slogan "tomorrow's breakouts today" are service marks of Proactive Technologies LLC. All other marks are the property of their respective owners, and are used for descriptive purposes only.
BreakoutWatch is not affiliated with Investor's Business Daily or with Mr. William O'Neil. Our site, research and analysis is supported entirely by subscription and is free from advertising.