Breakoutwatch Weekly Summary 11/20/21
You are receiving this email because you are or were a BreakoutWatch.com subscriber, or have subscribed to our weekly newsletter. This newsletter summarizes the breakout events of the week and provides additional guidance that does not fit into our daily format. It is published each weekend.
Newsletter Archive: https://www.breakoutwatch.com/content/newsletters
I wish all my subscribers a happy and safe Thanksgiving weekend. My eldest son is home for the Weekend and there will be no Newsletter next week.

Weekly Commentary
NASDAQ Closes at Another New High Led by Mega Cap Techs

The NASDAQ continued to outpace the major indexes with a 1.2% gain while the DJI went backwards (-1.4%) and the S&P 500 gained just 0.3%. Market participants are favoring the growth potential of the large tech stocks as evidenced by the Vanguard Mega Cap MGK etf moving 2.2% higher. The economic news is good with retail sales for October climbing, unemployment falling and passage of the Infrastructure legislation which will add further stimulus.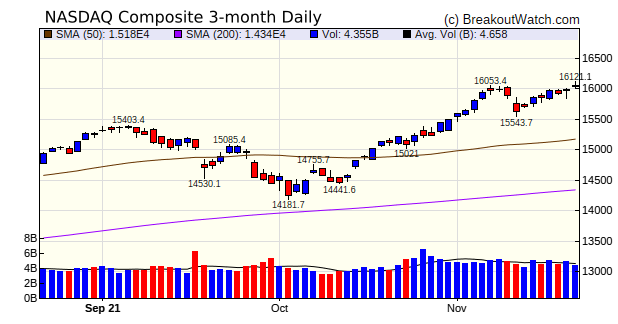 Although the NASDAQ continues to advance, there are fewer opportunities for breakouts and gains are limited by the already high valuations of stocks that do breakout. As of Friday, there were just 34 cup and handle stocks on our watchlist and only 2 Volatility Squeeze candidates.
Chart of the Week
Our price model has selected Alpine Immune Sciences (ALPN) as the cup and handle pattern stock most likely to breakout at the next session. ALPN closed 1.5% below its breakout price on Friday on above average volume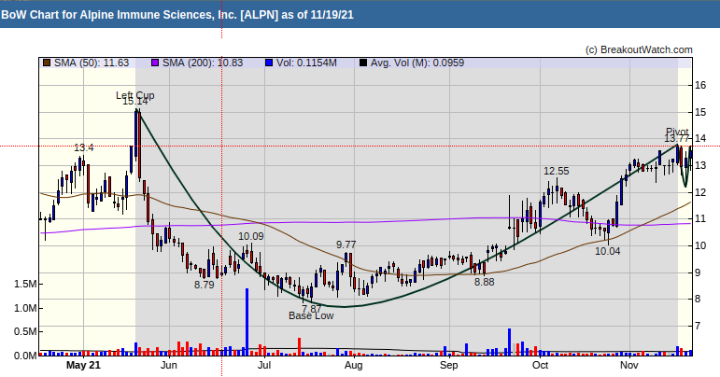 New Features this Week

The Breakoutwatch Support forum is now available again. The forum was restored after being unavailable since the site was hacked in August.

The backtest pages are still unavailable but I am working on getting them restored also.

Strategy Suggestions
Our latest strategy suggestions are
here
.
Breakouts Summary by Watchlist for Week Beginning 11/15/21

| List | Breakouts | Avg. Gain |
| --- | --- | --- |
| CWH | 7 | 0.39 |
| SQZ | 9 | -2.23 |
| HTF | | 0 |
| HSB | | 0 |
| DB | | 0 |
Breakouts Gaining at Least 5% for Week Beginning 11/15/21
Brkout Date
Symbol
Base
Squeeze
Brkout Price
Brkout Day Close
RS Rank*
Last Close
Current % off BOP
Gain at Intraday High
2021-11-18
RCUS
CWH
n
40.33
43.54
85
47.55
17.9%
19.09%
*RS Rank on day before breakout.
CwH Stocks Likely to Close above BoP at Next Session*
Symbol
Company
Industry
RS Rank
Last Close
BoP
% off BoP
ALPN
Alpine Immune Sciences, Inc.
Biotechnology
88
13.57
13.77
98.55
TRIL
Trillium Therapeutics Inc.
Biotechnology
98
18.44
18.49
99.73
PNRG
PrimeEnergy Resources Corporation
Oil & Gas E&P
87
67.75
71.59
94.64
SGA
Saga Communications, Inc.
Broadcasting
81
27.06
27.48
98.47
*These stocks were selected using our CWH price breakout model. This model selects stocks likely to close above the breakout price at the next session. When backtested over the three years beginning January 2019 until October 28, 2021, 80% of the stocks selected closed above their breakout price. This does not mean that on any day, 80% of the stocks selected will breakout, but it is the expectation over an extended period of time.


Symbol
BO
Price
BO
Vol.
Company
Industry
RS
Rank
Last
Close
TRIL
18.49
4,956,141
Trillium Therapeutics Inc.
Biotechnology
98
18.44
PBF
16.46
6,360,809
PBF Energy Inc.
Oil & Gas Refining & Marketing
93
12.77
PRQR
8.67
748,862
ProQR Therapeutics N.V.
Biotechnology
92
7.77
ARLO
8.39
947,118
Arlo Technologies - Inc.
Security & Protection Services
89
7.90
CNR
17.50
823,683
Cornerstone Building Brands - Inc.
Building Products & Equipment
89
16.77
GOSS
14.30
839,217
Gossamer Bio - Inc.
Biotechnology
83
11.57
These stocks meet our suggested screening factors for our Cup and Handle Chart Pattern watchlist.
See Revised Rules for Trading Cup and Handle Breakouts
Major Index Summary
Index
Value
Change Week
Change YTD
Trend1
Dow
35602

-1.38%
16.32%
Up

NASDAQ
16057.4

1.24%
24.59%
Up

S&P 500
4697.96

0.32%
25.08%
Up


1

The Market Trend is derived from our proprietary market model. The market model is described on the site

here

.

2

The site also shows industry rankings based on fundamentals, combined technical and fundamentals, and on price alone. The site also shows daily industry movements.
Best Performing Index
1 Week
13 Weeks
26 Weeks
Year-to-Date
NASDAQ Composite
NASDAQ Composite
9.12
NASDAQ Composite
19.2
S&P 500
25.08
Best Performing Industry

| 1 Week | 3 Weeks | 13 Weeks | 26 Weeks |
| --- | --- | --- | --- |
| Uranium | Thermal Coal | Aluminum | Silver |
Most Improved Industry (by change in technical rank2)
Aerospace & Defense
0
Aerospace & Defense
0
Aerospace & Defense
0
Aerospace & Defense
0
Charts of each industry rank and performance over 12 months are available on the site
If you received this newsletter from a friend and you would like to receive it regularly please go to the BreakoutWatch.com site and you will then be able to register to receive the newsletter.
Copyright (c) 11/20/2021 Proactive Technologies, LLC dba BreakoutWatch.com. All rights reserved.
" BreakoutWatch," the BreakoutWatch.com "eye" logo, and the slogan "tomorrow's breakouts today" are service marks of Proactive Technologies LLC. All other marks are the property of their respective owners, and are used for descriptive purposes only.
BreakoutWatch is not affiliated with Investor's Business Daily or with Mr. William O'Neil. Our site, research and analysis is supported entirely by subscription and is free from advertising.