Breakoutwatch Weekly Summary 12/11/21
You are receiving this email because you are or were a BreakoutWatch.com subscriber, or have subscribed to our weekly newsletter. This newsletter summarizes the breakout events of the week and provides additional guidance that does not fit into our daily format. It is published each weekend.
Newsletter Archive: https://www.breakoutwatch.com/content/newsletters
Weekly Commentary
Cup and Handle Pattern Returns to Leadership Role

After last weeks failure to deliver positive gains, the cup and handle pattern returned to its historical leadership position with average breakout gains of 6.7%. The number of breakouts was well below average but that is explained by there being comparatively few stocks on the cup and handle watchlist. For example, for Friday's session there were only 17 breakout candidates.

This was a very positive week for the markets with the S&P 500 closing at a new high on Friday after a 3.8% gain for the week. The DJI added 4% while the NASDAQ lagged slightly with a 3.6% gain. Tuesday saw the strongest gains with a relief rally after it appeared the Omicron Covid strain would be less deadly than first thought and that the current crop of vaccines would be effective against it. Friday's news that y-on-y inflation stood at 6.8% failed to spook that markets as might have been expected. Instead it was a seen as positive for earnings as higher prices can lead to higher profits.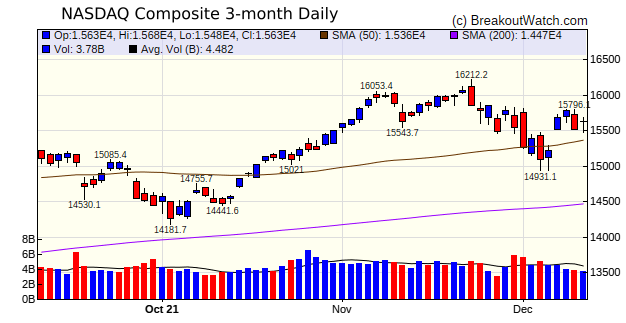 Chart of the Week
First US Bankshares

FUSB (First US Bankshares ) was our price model's pick as the Cup and Handle pattern stock most likely to breakout at the next session. The stock was selected on the strength of closing higher on two above average volume days on the right side of the handle. Should FUSB breakout, there is a possible gain of 6% to the left side of the cup. The chart shows substantial volatility with large intraday swings, so a breakout could be quickly followed by profit taking.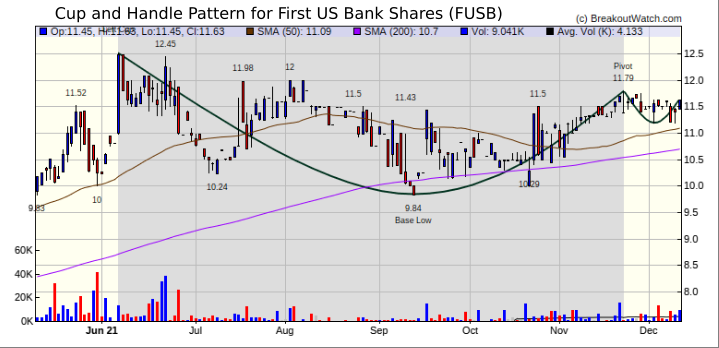 New Features this Week
New Chart Presentation Style

Users of the desktop site will notice a change in how charts are presented from the "Stock Chart" and "Technical Analysis Chart" links. This was done to improve the experience for users of the site in their phone or tablet making the site more responsive. Work on improving the presentation on phones and tablets is continuing and a phone app will be released in the near future.

Strategy Suggestions
Our latest strategy suggestions are
here
.
Breakouts Summary by Watchlist for Week Beginning 12/06/21

| List | Breakouts | Avg. Gain |
| --- | --- | --- |
| CWH | 4 | 6.78 |
| SQZ | 5 | 1.13 |
| HTF | 1 | 2.68 |
| HSB | | 0 |
| DB | | 0 |
Breakouts Gaining at Least 5% for Week Beginning 12/06/21
Brkout Date
Symbol
Base
Squeeze
Brkout Price
Brkout Day Close
RS Rank*
Last Close
Current % off BOP
Gain at Intraday High
2021-12-06
GRBK
CWH
n
27.91
30.54
87
31.89
14.26%
15.37%
2021-12-08
ARLO
CWH
n
8.41
8.94
0
9.03
7.37%
13.79%
*RS Rank on day before breakout.
CwH Stocks Likely to Close above BoP at Next Session*
Symbol
Company
Industry
RS Rank
Last Close
BoP
% off BoP
FUSB
First US Bancshares, Inc.
Banks - Regional
84
11.63
11.79
98.64
*These stocks were selected using our CWH price breakout model. This model selects stocks likely to close above the breakout price at the next session. When backtested over the three years beginning January 2019 until October 28, 2021, 80% of the stocks selected closed above their breakout price. This does not mean that on any day, 80% of the stocks selected will breakout, but it is the expectation over an extended period of time.
Top Rated Cup and Handle Stocks as of Friday December 10, 2021
Symbol
BO
Price
BO
Vol.
Company
Industry
RS
Rank
Last
Close
PBF
16.46
4,958,012
PBF Energy Inc.
Oil & Gas Refining & Marketing
80
12.79
These stocks meet our suggested screening factors for our Cup and Handle Chart Pattern watchlist.
See Revised Rules for Trading Cup and Handle Breakouts
Major Index Summary
Index
Value
Change Week
Change YTD
Trend1
Dow
35971

4.02%
17.53%
Down

NASDAQ
15630.6

3.61%
21.28%
Down

S&P 500
4712.02

3.82%
25.45%
Down


1

The Market Trend is derived from our proprietary market model. The market model is described on the site

here

.

2

The site also shows industry rankings based on fundamentals, combined technical and fundamentals, and on price alone. The site also shows daily industry movements.
Best Performing Index
1 Week
13 Weeks
26 Weeks
Year-to-Date
Dow Jones
S&P 500
3.41
NASDAQ Composite
11.1
S&P 500
25.45
Best Performing Industry

| 1 Week | 3 Weeks | 13 Weeks | 26 Weeks |
| --- | --- | --- | --- |
| REIT - Residential | Uranium | Aluminum | Silver |
Most Improved Industry (by change in technical rank2)
Aerospace & Defense
0
Aerospace & Defense
0
Aerospace & Defense
0
Aerospace & Defense
0
Charts of each industry rank and performance over 12 months are available on the site
If you received this newsletter from a friend and you would like to receive it regularly please go to the BreakoutWatch.com site and you will then be able to register to receive the newsletter.
Copyright (c) 12/11/2021 Proactive Technologies, LLC dba BreakoutWatch.com. All rights reserved.
" BreakoutWatch," the BreakoutWatch.com "eye" logo, and the slogan "tomorrow's breakouts today" are service marks of Proactive Technologies LLC. All other marks are the property of their respective owners, and are used for descriptive purposes only.
BreakoutWatch is not affiliated with Investor's Business Daily or with Mr. William O'Neil. Our site, research and analysis is supported entirely by subscription and is free from advertising.