Breakoutwatch Weekly Summary 02/26/22
You are receiving this email because you are or were a BreakoutWatch.com subscriber, or have subscribed to our weekly newsletter. This newsletter summarizes the breakout events of the week and provides additional guidance that does not fit into our daily format. It is published each weekend.
Newsletter Archive: https://www.breakoutwatch.com/content/newsletters
Download our Android App.

Weekly Commentary
New Average True Range Breakout Watchlist - See New Features

After fears that sanctions on Russia after the invasion of Ukraine would have a catastrophic effect on the US economy receded, the markets made a strong turnaround on Thursday and the NASDAQ closed the week 1.1% higher. Sanctions were not imposed on Russia's oil and gas exports, which would have raised gas prices at the pump in the US and further exacerbated inflation.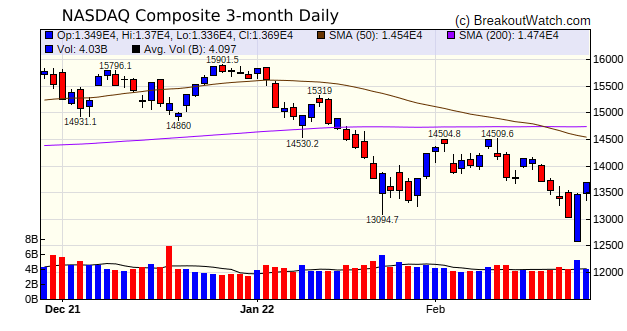 The top performing breakout this week was Silica Holdings Inc. (SLCA) with a 16.5% gain. Using the new ATR breakout (see below) watchlist, this could have been bought at the open on Feb. 14 for 10.1 for a gain of 40% up to Friday's close.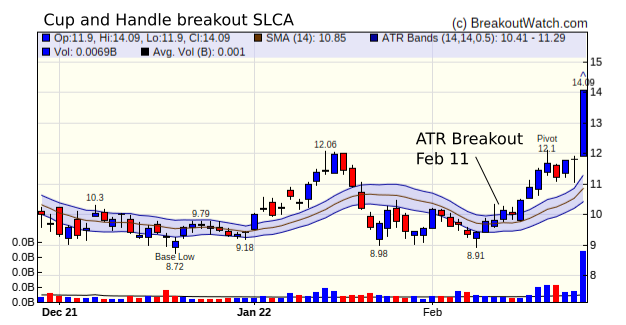 Chart of the Week
Block Inc. (SQ)

Block Inc. closed above its upper ATR channel on Friday following two days of well above average volume and an earnings report that beat analysts' estimates. Block is potentially starting a turnaround after a 60% fall from its September high. Block includes payments processor Square as one of its subsidiaries. Following the earnings report, management provided an optimistic outlook for future earnings.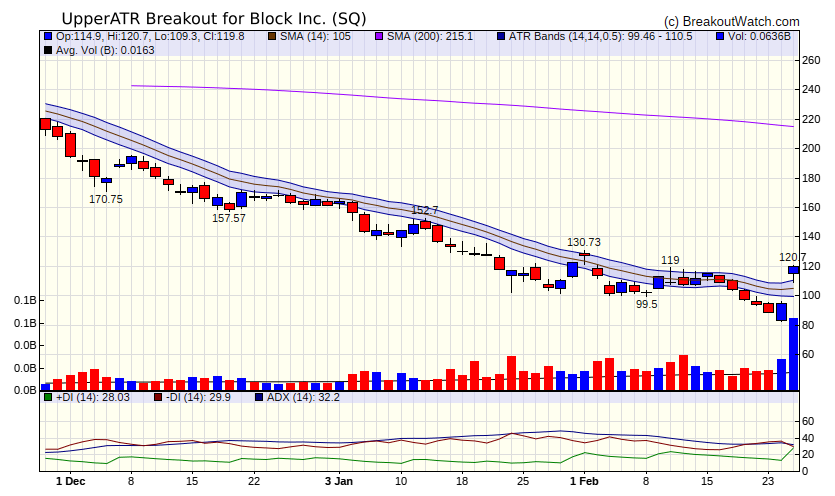 New Features this Week
Upper ATR Breakout Watchlist

I developed this watchlist as a method of looking for stocks that have been beaten down and may be starting an upswing. It has proved profitable for me with several stocks, such as HRB and MRVI.The watchlist is accessed from the Long Position watchlist patterns menu.

Average True Range (ATR) is a measure of the recent (in our case 14 day) volatility of a stock. In this watchlist we publish a list of stocks that have just broken out above their ATR. The 14 day ATR is viewable as a price band in our Technical Analysis Charts.

The methodology is as follows:



1. Each day, calculate the 14 day ATR for all US stocks in our database with a close price of $5.00 or more.

2. For the current day, calculate the upper value of the ATR range. If the current date is t then

upperATRt = ATRt / 2 + SMAt where SMAt is the current 14 day simple moving average.

3. Calculate the equivalent upperATR for day t-1.

4. If closet > upperATRt and closet-1 < upperATRt-1 then we have an upperATR breakout candidate.

5. The ATR comparison date t to date t-1 tells us that volatility has increased beyond the average range, and also that the price has moved up but we don't know the strength of the upward trend. For that we turn to the Average Directional Indicator (ADX) and require that it be at least 25.


To summarize, a stock is placed on the upper ATR breakout list when:


close price is a minimum of $5.00
50 day average volume is at least 1million
Close price has moved above above the upper ATR band
ADX is at least 25.




To illustrate these concepts consider H&R Block (HRB)at the start of the 2022 tax season. On January 28, The stock had risen on strong volume and closed just below the upper ATR band.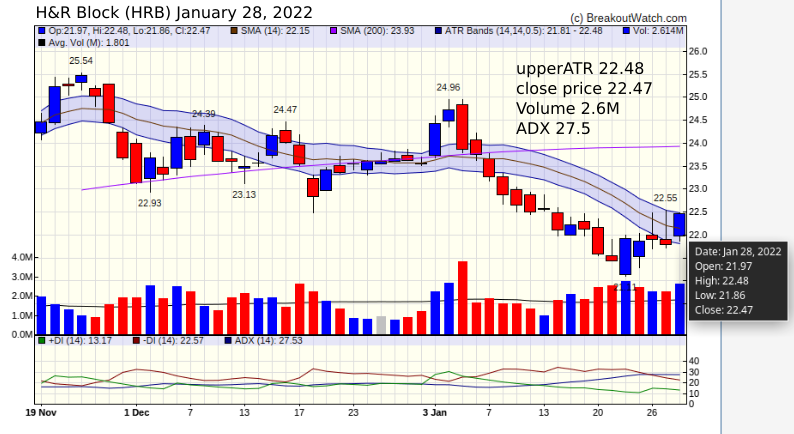 The next trading day, January31, HRB closed just above the upper ATR, and the conditions to be placed on the Upper ATR Breakout watchlist were met.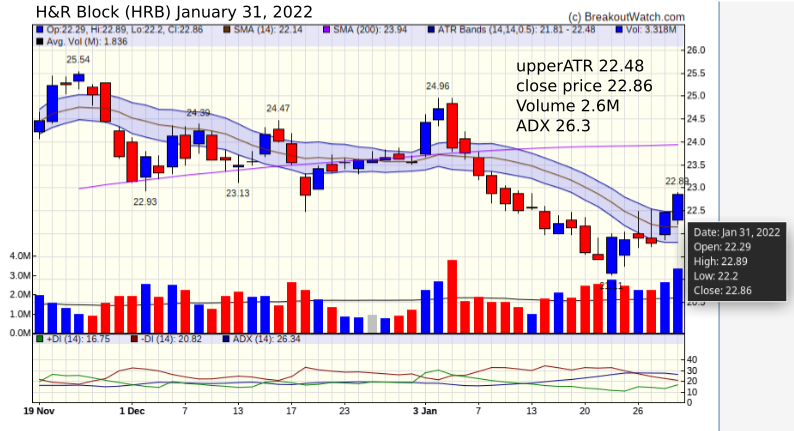 HRB could then have been bought at next open at $22.89. It went on to peak at 25.16 for a max. gain of 9.9%.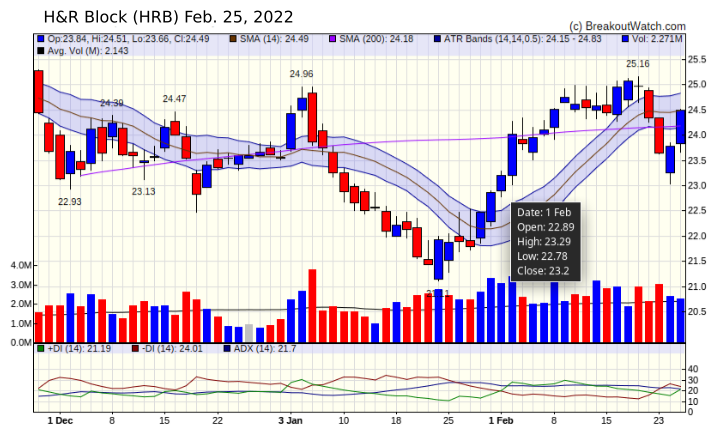 Important Note: Unlike our other watchlists, we do not send email alerts for stocks on this watchlist as they have already broken out when placed on the list. The list is available after all processing for the day is complete and will be included on the Daily Email.

Strategy Suggestions
Our latest strategy suggestions are
here
.
Breakouts Summary by Watchlist for Week Beginning 02/21/22

| List | Breakouts | Avg. Gain |
| --- | --- | --- |
| CWH | 14 | 0.37 |
| SQZ | 28 | 2.55 |
| HTF | 1 | 12.46 |
| HSB | | 0 |
| DB | | 0 |
Breakouts Gaining at Least 5% for Week Beginning 02/21/22
Brkout Date
Symbol
Base
Squeeze
Brkout Price
Brkout Day Close
RS Rank*
Last Close
Current % off BOP
Gain at Intraday High
2022-02-25
SLCA
CWH
n
12.10
14.09
94
14.09
16.45%
16.45%
2022-02-23
BPT
HTF
n
10.59
11.03
99
11.91
12.46%
19.07%
2022-02-24
MAYS
SQZ
y
39.61
43.01
95
43.5
9.82%
10.2%
2022-02-25
BRY
SQZ
y
9.55
10.12
98
10.12
5.97%
6.28%
2022-02-25
JILL
SQZ
y
16.01
16.94
97
16.94
5.81%
5.87%
2022-02-24
INSW
CWH
n
17.07
17.61
81
17.96
5.21%
5.39%
*RS Rank on day before breakout.
CwH Stocks Likely to Close above BoP at Next Session*
Symbol
Company
Industry
RS Rank
Last Close
BoP
% off BoP
NVGS
Navigator Holdings Ltd. O
Oil & Gas Midstream
89
10.27
10.45
98.28
EVRI
Everi Holdings Inc.
Gambling
93
23.92
24.23
98.72
PNBK
Patriot National Bancorp Inc.
Banks - Regional
98
16.4
16.58
98.91
MRC
MRC Global Inc.
Oil & Gas Equipment & Services
93
9.9
10.06
98.41
LITE
Lumentum Holdings Inc.
Communication Equipment
91
101.41
102.27
99.16
*These stocks were selected using our CWH price breakout model. This model selects stocks likely to close above the breakout price at the next session. When backtested over the three years beginning January 2019 until October 28, 2021, 80% of the stocks selected closed above their breakout price. This does not mean that on any day, 80% of the stocks selected will breakout, but it is the expectation over an extended period of time.
Top Rated Cup and Handle Stocks as of Friday February 25, 2022
Symbol
BO
Price
BO
Vol.
Company
Industry
RS
Rank
Last
Close
BTU
19.60
9,556,063
Peabody Energy Corporation
Thermal Coal
99
16.01
MRC
10.06
1,174,456
MRC Global Inc.
Oil & Gas Equipment & Services
93
9.90
VALE
18.15
46,897,037
VALE S.A. American Depositary Shares Each Represe
Other Industrial Metals & Mining
93
17.82
SXC
7.95
1,039,968
SunCoke Energy - Inc.
Coking Coal
92
7.83
BHR
6.50
759,085
Braemar Hotels & Resorts Inc.
REIT - Hotel & Motel
91
6.20
BSM
12.39
561,486
Black Stone Minerals - L.P.
Oil & Gas E&P
89
12.10
VOD
19.05
10,285,995
Vodafone Group Plc
Telecom Services
85
18.01
KYN
8.85
1,146,466
Kayne Anderson Energy Infrastructure Fund - Inc.
Asset Management
84
8.42
INN
10.58
877,080
Summit Hotel Properties - Inc.
REIT - Hotel & Motel
83
10.06
XHR
19.46
854,055
Xenia Hotels & Resorts - Inc.
REIT - Hotel & Motel
83
18.65
These stocks meet our suggested screening factors for our Cup and Handle Chart Pattern watchlist.
See Revised Rules for Trading Cup and Handle Breakouts
Major Index Summary
Index
Value
Change Week
Change YTD
Trend1
Dow
34058.8

-0.06%
-6.27%
Down

NASDAQ
13694.6

1.08%
-12.47%
Down

S&P 500
4384.65

0.82%
-8%
Down


1

The Market Trend is derived from our proprietary market model. The market model is described on the site

here

.

2

The site also shows industry rankings based on fundamentals, combined technical and fundamentals, and on price alone. The site also shows daily industry movements.
Best Performing Index
1 Week
13 Weeks
26 Weeks
Year-to-Date
NASDAQ Composite
Dow Jones
-4.57
S&P 500
-2.76
Dow Jones
-6.27
Best Performing Industry

| 1 Week | 3 Weeks | 13 Weeks | 26 Weeks |
| --- | --- | --- | --- |
| Oil & Gas Drilling | Oil & Gas Integrated | REIT - Residential | Solar |
Most Improved Industry (by change in technical rank2)
Aerospace & Defense
0
Aerospace & Defense
0
Aerospace & Defense
0
Aerospace & Defense
0
Charts of each industry rank and performance over 12 months are available on the site
If you received this newsletter from a friend and you would like to receive it regularly please go to the BreakoutWatch.com site and you will then be able to register to receive the newsletter.
Copyright (c) 02/26/2022 Proactive Technologies, LLC dba BreakoutWatch.com. All rights reserved.
" BreakoutWatch," the BreakoutWatch.com "eye" logo, and the slogan "tomorrow's breakouts today" are service marks of Proactive Technologies LLC. All other marks are the property of their respective owners, and are used for descriptive purposes only.
BreakoutWatch is not affiliated with Investor's Business Daily or with Mr. William O'Neil. Our site, research and analysis is supported entirely by subscription and is free from advertising.