Breakoutwatch Weekly Summary 10/01/22
You are receiving this email because you are or were a BreakoutWatch.com subscriber, or have subscribed to our weekly newsletter. This newsletter summarizes the breakout events of the week and provides additional guidance that does not fit into our daily format. It is published each weekend.
Newsletter Archive: https://www.breakoutwatch.com/content/newsletters
Weekly Commentary
NASDAQ Testing June Low but Support Unlikely

I'm back from 4 weeks in Europe. If you tried to contact me and I didn't reply, please try again now.

The NASDAQ has fallen to the support level last seen on June 16th which was followed by a 2 month recovery. On June 16th, the index closed above its low for the day, but that was not the case yesterday. So support at this level is unlikely.

September was a bleak month with the NASDAQ losing 10.5%. Apple, one of the NASDAQ's tech leaders, dropped 8.1% this week on fears that sales of the new iPhone would tumble. As a result supplier's stocks also fell as well as funds and ETF's that have Apple as a core holding.

Other factors weighing down the markets are:

The Fed will likely keep raising rates at a 0.75% clip until inflation is tamed,
Europe is likely to go into recession this winter as food and fuel shortages caused by the war drive inflation higher
Putin's escalation of the war makes nuclear warfare more likely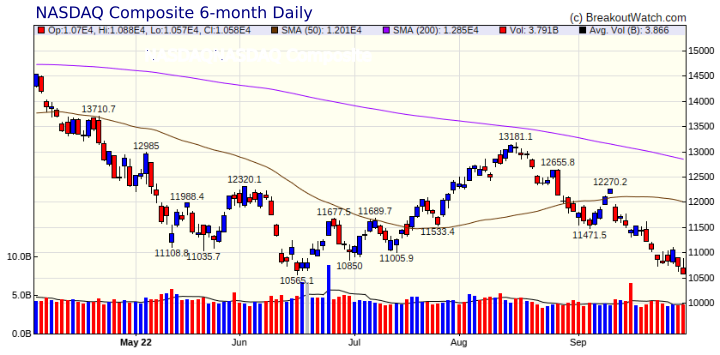 Chart of the Week
Navient Corporation (NAVI) moved 5% higher on Friday and brokeout from its Average True Range. The stock has shown increasing positive volume for the last three days. The stock may have benefited from changes announced Thursday on the Administration's Student Loan forgiveness program. The company has a dividend yield of 4.35%. Currently, NAVI's payout ratio is 28% of earnings.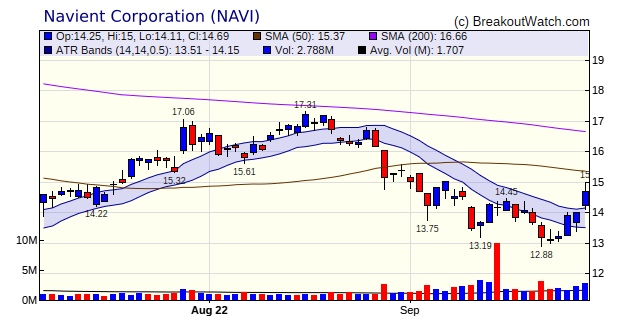 New Features this Week

No new features this week

Strategy Suggestions
Our latest strategy suggestions are
here
.
Breakouts Summary by Watchlist for Week Beginning 09/26/22

| List | Breakouts | Avg. Gain |
| --- | --- | --- |
| CWH | 2 | 3.1 |
| SQZ | 12 | 1.2 |
| HTF | 1 | 14.53 |
| HSB | | 0 |
| DB | | 0 |
Breakouts Gaining at Least 5% for Week Beginning 09/26/22
Brkout Date
Symbol
Base
Squeeze
Brkout Price
Brkout Day Close
RS Rank*
Last Close
Current % off BOP
Gain at Intraday High
2022-09-29
AKRO
HTF
n
29.73
29.8
99
34.05
14.53%
18.84%
2022-09-28
KNSA
SQZ
y
11.52
11.97
91
12.84
11.46%
13.15%
2022-09-28
HLIT
CWH
n
12.09
13
96
13.07
8.11%
10.01%
*RS Rank on day before breakout.
CwH Stocks Likely to Close above BoP at Next Session*
Symbol
Company
Industry
RS Rank
Last Close
BoP
% off BoP
There were no stocks meeting our probable breakout criteria today.
*These stocks were selected using our CWH price breakout model. This model selects stocks likely to close above the breakout price at the next session. When backtested over the three years beginning January 2019 until October 28, 2021, 80% of the stocks selected closed above their breakout price. This does not mean that on any day, 80% of the stocks selected will breakout, but it is the expectation over an extended period of time.
/home/breakoutwatch/public_html/model/disc/2022-10-01.html could not open /home/breakoutwatch/public_html/model/disc/2022-10-01.html
Top Rated Cup and Handle Stocks as of Friday September 30, 2022
Symbol
BO
Price
BO
Vol.
Company
Industry
RS
Rank
Last
Close
MOD
17.52
541,730
Modine Manufacturing Company
Auto Parts
95
12.94
MGI
10.54
737,049
Moneygram International - Inc.
Credit Services
93
10.40
TBPH
11.00
904,612
Theravance Biopharma - Inc.
Biotechnology
92
10.14
These stocks meet our suggested screening factors for our Cup and Handle Chart Pattern watchlist.
See Revised Rules for Trading Cup and Handle Breakouts
Major Index Summary
Index
Value
Change Week
Change YTD
Trend1
Dow
28725.5

-2.92%
-20.95%
Down

NASDAQ
10575.6

-2.69%
-32.4%
Down

S&P 500
3585.62

-2.91%
-24.77%
Down


1

The Market Trend is derived from our proprietary market model. The market model is described on the site

here

.

2

The site also shows industry rankings based on fundamentals, combined technical and fundamentals, and on price alone. The site also shows daily industry movements.
Best Performing Index
1 Week
13 Weeks
26 Weeks
Year-to-Date
NASDAQ Composite
NASDAQ Composite
-7.63
Dow Jones
-17.5
Dow Jones
-20.95
Best Performing Industry

| 1 Week | 3 Weeks | 13 Weeks | 26 Weeks |
| --- | --- | --- | --- |
| Healthcare Plans | Thermal Coal | Thermal Coal | Rental & Leasing Services |
Most Improved Industry (by change in technical rank2)
Aerospace & Defense
0
Aerospace & Defense
0
Aerospace & Defense
0
Aerospace & Defense
0
Charts of each industry rank and performance over 12 months are available on the site
If you received this newsletter from a friend and you would like to receive it regularly please go to the BreakoutWatch.com site and you will then be able to register to receive the newsletter.
Copyright (c) 10/01/2022 Proactive Technologies, LLC dba BreakoutWatch.com. All rights reserved.
" BreakoutWatch," the BreakoutWatch.com "eye" logo, and the slogan "tomorrow's breakouts today" are service marks of Proactive Technologies LLC. All other marks are the property of their respective owners, and are used for descriptive purposes only.
BreakoutWatch is not affiliated with Investor's Business Daily or with Mr. William O'Neil. Our site, research and analysis is supported entirely by subscription and is free from advertising.