Market Summary
Second-quarter earnings, with a few important exceptions, have exceeded analysts expectations and fueled the market's fourth successive weekly rise. The gains were tempered though by further bombings in London and overnight events in Egypt could further affect markets next week. For the week, the DJI gained just 0.1%, the NASDAQ Composite gained 1.06% and the S&P 500 gained 0.47%.
The AP reported on Friday that 72% of 202 companies in the S&P 500 had reported earnings that exceeded analysts expectations, 15% were in line leaving just 13% that failed to meet expectations. These statistics would be more meaningful if adjusted by market cap. (Microsoft and Google were two high cap failures) but nevertheless indicate that the economy is in good shape and provide a basis to believe that these positive earnings results will continue.
From a technical perspective though, the indications are more problematic, coinciding with several companies warning that third-quarter profits are likely to be lower. On Thursday, the NASDAQ briefly passed the intraday high set on January 3 this year and retreated. The index was essentially flat on Friday and we could see a period of consolidation now with the index trading between approximately 2190 and 2150.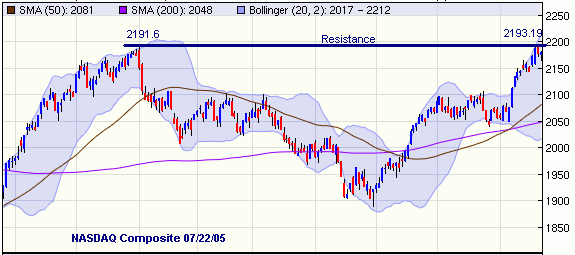 The S&P 500 has been trading within an upward sloping channel with support shown by line 1 below. More recently though there is a possible rising wedge pattern emerging (line 2) which is usually bearish and we could see a correction in the S&P down to support line 1 over the next few weeks.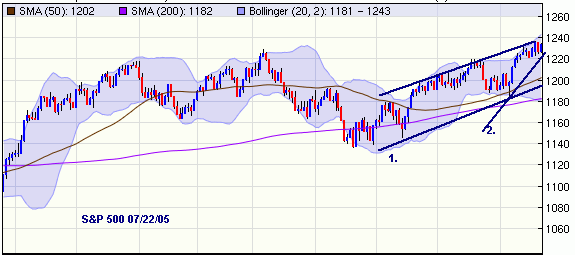 Breakouts This Week
The number of breakouts increased to 59 this week from 37 last week with average gains per breakout also rising to 3.02% at the end of the week, compared to 1.79% last week. Two-week gains rose to 4.9% and average 13 week gains to 9.5% up from 7.9% last week. These statistics show that breakout performance is improving as the market improves.
Among the week's high flyers were SGDE (Sportsman's Guide Inc.), RIMG (Rimage Corp.) and ARQL (Arqule Inc.). SGDE broke out of a high HQ 9-day handle on Tuesday to gain 25.08% before closing the week with a 16.27% gain. RIMG, also with a high scoring handle, broke out on Thursday and reached an intraday high of 18% while profit taking on Friday reduced the gain to a still healthy two day gain of.12.51%. ARQL broke out of an 18-day handle on Monday to gain 20.85% before profit taking reduced the gain above the pivot to 7.87% by week's close. Our Gold and Platinum subscribers receive email alerts so they can take advantage of these huge 1 day gains as they happen. Our revised Handle Quality (HQ) metric is proving an excellent predictor of strong breakout day performance (see Newsletter for 7/9/05) while RS Rank is the best predictor of longer term performance after breakout (see this week's tip below).
Sector Performance
The Electronics sector was the most active in providing breakouts this week contributing 8 to the overall tally followed by Computer Software with 6 breakouts. Building Residential-Commercial is our top ranked sector on technical strength on a one-day bases while Oil and Gas Canadian is the best for the week overall. Platinum subscribers can view daily updated industry statistics ranked on four different criteria, together with ranked industry components and charts. Our industry analysis options are the most comprehensive available anywhere, period.
Imminent Subscription Price Increase
Substantial value has been added to to breakoutwatch.com since our last price increase over a year ago and we are dedicated to continuous improvement. Our new Technical Analysis charts were enhanced again this week. To finance our ongoing development we must raise our subscription prices which will rise by approximately 10% on August 1, 2005. You can beat the price increase by subscribing now or renewing or upgrading your subscription before July 31. Our new rates are published here. A comparison of the different subscription levels is published here.
Get a 14 day Trial of our premium 'Platinum' service for just $9.95 and if you subsequently subscribe to any subscription level we will credit your $9.95 to your subscription.
14 Day Platinum Trial
(you will need to allow pop-ups from breakoutwatch.com to see the subscription form)