Stock Selection Based on Breakout Results
A subscriber, we'll call him David, who is a physician with experience with clinical trials, has applied his statistical expertise to the problem of which stocks to select after breakout. Today we share with you the preliminary results of that analysis, which is still ongoing. It is important to note that his analysis does not include the recently improved method of calculating Handle Quality (HQ).
David began by downloading the data from the Recent Breakouts Report and plotting the maximum gain since breakout as a percentile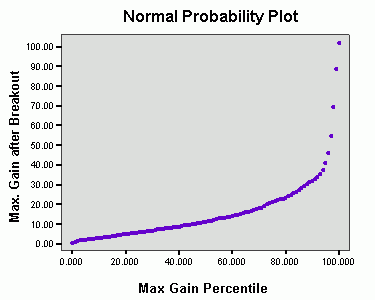 He then looked for metrics that would allow him to discriminate the top 20% of breakouts from the rest. In addition to the published metrics, David was also interested in knowing if the close on breakout day in relation to the price range on breakout day had an influence on eventual performance. Using the new data added to the download this week, he was able to create a new metric which expressed the close on breakout day as a percentage of the range on breakout day. David now looked at which variables were significant in discriminating the top 20% from the lower 80% of breakouts, for which he used Student's T-test. In addition to knowing which metrics were significant discriminators, in the strict statistical sense, he also wanted to know how useful they were in a practical sense, so he also calculated the mean of each metric and took the ratio of the means.
Student's t-test splitting data into best 20% versus the other 80%
B'out Vol
B'out
B'out
B'out
B'out
B'out day
Expected
B'out
B'out
B'out Close
% ADV
RS
HQ
RCQ
CQ
% Gain
Gain
CET
CEF
% (Hi-Lo)
T-test 20/80
0.056
8.0E-08
0.51
0.0018
0.0013
0.024
0.77
0.00039
0.75
0.05
Mean 20%
343
87.9
0.2
1.056
1.24
3.15
46.5
5.96
7.12
73.6
Mean 80%
277
83
0.17
0.713
0.86
2.24
47.6
5.81
7.19
78.2
Ratio 20/80
1.24
1.06
1.15
1.48
1.43
1.4
0.97
1.02
0.99
0.94

Significant

Useful
David concluded that although RS, CET and Close % of Hi-Lo were statistically significant, the ratio of their 20% and 80% means was so close to 1 as to be not useful. Quoting David, "Metrics with the largest ratio offer the best chance of setting a threshold level that will prove profitable." Therefore, David concluded that the best filters for selecting stocks to buy when breakout is confirmed are based on RCQ, CQ and % Gain over BoP on breakout day. The question then remains as to what values of these metrics provide the optimal discrimination.
David hasn't come to any conclusions about the answer to this question, but I'll make my own observations as follows.
Because each of the three metrics is a valid discriminator, any one of them could be used alone, or in combination with the others
RCQ is highly correlated with CQ, so we need only use one of these metrics.
Threshold values could logically be chosen as the values 1 standard deviation greater than the mean.


Mean
S.D.

Mean + 1 S.D.
(Threshold)

RCQ
0.77
0.79
1.56
CQ
0.95
0.83
1.78
BO Gain %
2.48
2.86
5.34
Applying the filters (RCQ >= 1.56 OR CQ >= 1.78) AND BO Gain % >= 5.34 to the breakouts over the last three months selected 9 breakouts with an average gain of 49.4%. This is an impressive result, but may be considered too selective. Changing the filter to use the same threshold values for RCQ and CQ but using the mean (2.48) as the threshold for BO Gain % found 30 breakouts with an average gain of 29%.
Conclusion
This is a report of a work-in-progress that promises to be very beneficial to subscribers who prefer to wait for confirmed breakouts before making an investment decision. The work needs to be expanded to include the new values of HQ and to optimize the threshold values of the discriminant metrics. We'll keep you posted.
If you would like further information on this work, or wish to comment, please use the Breakoutwatch Forum to further the discussion.
Get a 14 day Trial of our premium 'Platinum' service for just $9.95 and if you subsequently subscribe to any subscription level we will credit your $9.95 to your subscription.
14 Day Platinum Trial
(you will need to allow pop-ups from breakoutwatch.com to see the subscription form)
---