We are pleased to be able to introduce an improved version of our Sell Assistant that substantially increases backtested returns from our TradeWatch Best Returns list. All future sell alerts sent from the site will use the new model. This improved version should also improve returns on any stock that was on an upward trend at time of purchase. This includes all breakouts from CwHwatch, FBwatch and DBwatch.
The new model improves the average returns on an individual stock by 30.8% and the non-compounded annualized return by 29.4% (using data as of 2/16/06).
Sell Model Version 1
Sell Model Version 2
No. of Positions Closed: 74
Avg. % Gain on Closed Positions: 7.2
Avg. Hold Period: 51 days
Annualized Return: 51%
No. of Positions Closed: 73
Avg. % Gain on Closed Positions: 9.42
Avg. Hold Period: 51 days
Annualized Return: 66%
The improvements to the model were achieved in two ways:
Taking profits when the stock shows signs of weakness after gaining at least 25%.
Cutting losses when the stock gaps down and closes below its 50 day moving average.
We use On Balance Volume (OBV) in addition to the Price Volume Oscillator (PVO) to allow winners to run.
Example of taking profits
Under the old model, we took a loss on GGR after it gained 55% and then plummeted.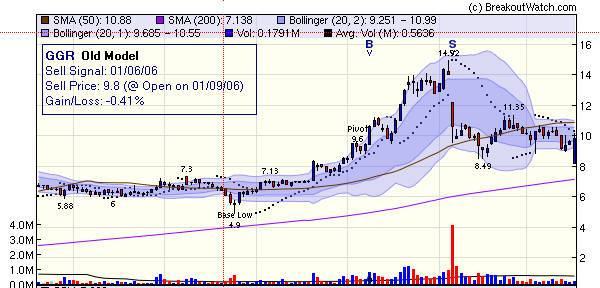 Under the new model we sell as the stock turns down after crossing into the inner Bollinger Band and turn a potential loss into a 31% profit.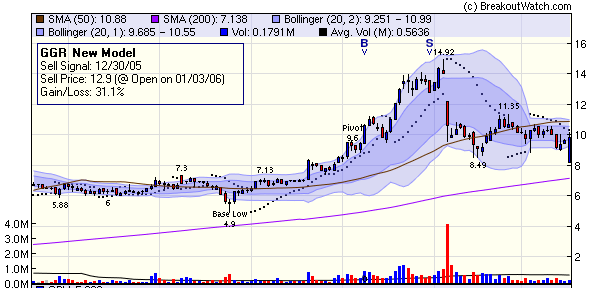 Example of Cutting Losses
Our old model allowed EPAY to drop over 15% below the buy price before the PVO confirmed a sell signal.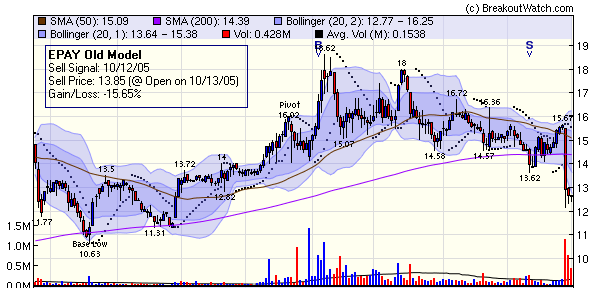 The now model sells EPAY as it gaps down below the 50 day moving average for a loss of just 3.3%.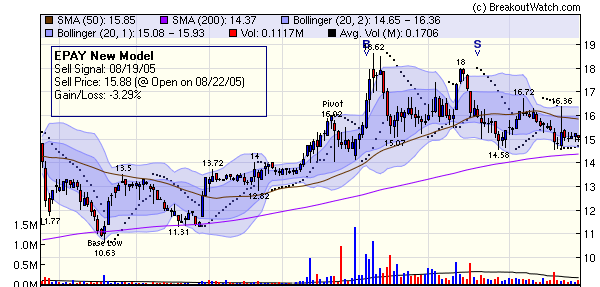 Example of allowing profits to run
Our old sell model sold SIRF for a 'mere' 44% gain after it crossed two Bollinger Bands and the PVO turned positive.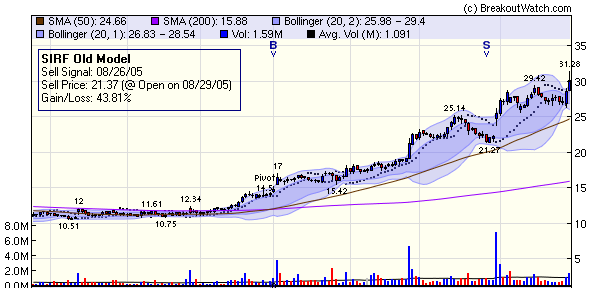 However, the OBV trend was still positive and our new model waits until both the OBV and PVO confirm the sell signal. This allows the stock to gain 93% before a sell signal is generated.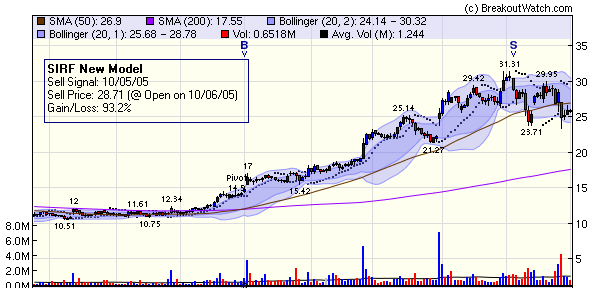 The new model is now operational on the site and is used by the Sell Assistant. The TradeWatch Best Return history has been updated to reflect the Sell Signals. The old version has been archived here.
Market Signals Update
Last week we presented figures showing the returns that would have been obtained from using our NASDAQ market signal to trade in QQQQ. Some subscribers questioned as to why the annual returns for QQQQ using our market signals to buy, sell, short or cover did not add up to the overall return for the five year period 2000 - 2005. The reason was that the individual yearly returns only included trades opened and closed during the year. Consequently, trades that straddled a year were not included. Here are the yearly returns for trading both long and short positions assuming you opened a position at the start of the year based on the signal in effect at that time and closing the position at the end of the year.
Year

QQQQ Gain %

Market Signal
Long & Short Gain %

2000

-36%

61.64

2001*

-31.18

29.79

2002

-37.97

16.87

2003

48.14

5.13

2004

9.19

24.22

2005

1.2

8.82

Total

-15.44%

146.47%

* Signal was 'exit' for entire year
You are welcome to use the tool to test the market signals against a number of ETF's including QQQQ, SPY, DIA and so on. The link to the tool is http://www.breakoutwatch.com/marketIndexes/signalReturnsETF.php
Please post questions and comments to the Breakoutwatch Forum.
Get a 14 day Trial of our premium 'Platinum' service for just $9.95 and if you subsequently subscribe to any subscription level we will credit your $9.95 to your subscription.
14 Day Platinum Trial
(you will need to allow pop-ups from breakoutwatch.com to see the subscription form)
---