Picking Winning Stocks in the Current Market
2007 has been kind to us so far. Our TradeWatch selections have done very well year to date with gains that have far outperformed the major indexes. For example, here are the returns in each TradeWatch category.
TradeWatch List
Avg Gain
Positions Closed
Avg. Gain
Positions open
Combined Annualized Return
Buy at Open
6.12%
8.87%
248.7%
Buy on Breakout
0%
4.22%
154%
Swing Trade
2.33%
N/A
116%
Day Trade
0.83%
N/A
208%
Our TradeWatch Buy at Open portfolio, using the parameters recommended in our Newsletter of 12/09/2006 has returned 8.84%.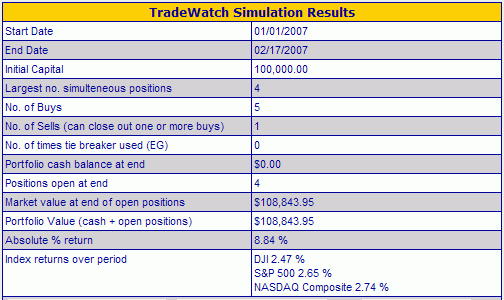 However, you don't need to be a TradeWatch subscriber to achieve exceptional returns.
Our Expected Gain metric is available to subscribers at all levels. Buying breakouts with an expected gain of 75% or more on breakout would have provided 13 selections since the start of the year. These substantially beat the performance of the average breakout by providing an 80% better return to the intraday high after breakout. To the close on breakout day, they made an average gain from BoP of 3.18% and average gains of 22.3% to their maximum intraday level since breakout . Our backtest tool on the CwHwatch list illustrates this performance using a filter on expected gain of 75%.

The list of stocks meeting the 75% Expected Gain filter (which includes REFR) can also be obtained from the backtest tool:
Investment Advisors Using our Service
TradeRight Securities, located in a suburb of Chicago, is a full services investment management company and broker/dealer. They have been a subscriber, and user, of BreakoutWatch.com for some time now. They practice CANTATA and use Breakoutwatch.com as a "research analyst". You can learn more about TradeRight Securities at: www.traderightsecurities.com. If you're interested in speaking to a representative, simply call them toll-free at 1-800-308-3938 or e-mail gdragel@traderightsecurities.com.
PivotPoint Advisors, LLC takes a technical approach to investment planning and management. A breakoutwatch.com subscriber since May, 2004, they use breakouts, market signals, and now TradeWatch to enhance returns for their clients. Learn more at http://pivotpointadvisors.net or contact John Norquay at 608-826-0840 or by email at john.norquay@pivotpointadvisors.net.
Note to advisors: If you would like to be listed here, please contact us. As a service to those who subscribe to us, there is no additional charge to be listed here.
Get a 14 day Trial of our premium 'Platinum' service and TradeWatch for just $9.95 and if you subsequently subscribe to any subscription level we will credit your $9.95 to your subscription.

14 Day Platinum Trial
(you will need to allow pop-ups from breakoutwatch.com to see the subscription form)
---