How to find Pull Backs to the 50 dma Level
One of our least promoted, but most powerful tools, is the ability to search our database of all NYSE, NASDAQ and AMEX symbols for stocks meeting specific technical and fundamental criteria. We described how to use this tool in our April 2, 2005 Newsletter but haven't revisited the topic since.
A function we recently added is the ability to search for stocks that have pulled back to their 50 day moving average level. Our criterion for a pull back is that the stock must be within +/- 1% of its 50 day moving average price and have been at least 10% higher in the last three months. When this filter is combined with any of the other searchable conditions, you have a powerful tool to select pullbacks to the 50 dma that also meet other technical and fundamental conditions of your choice.
To find stocks that meet the 50 dma pull back conditions, access the database search function from the Mine for Candidates > Database Search menu choice. Then choose a set or sub-set of stocks to search on and check the "50 dma Pull Backs" box.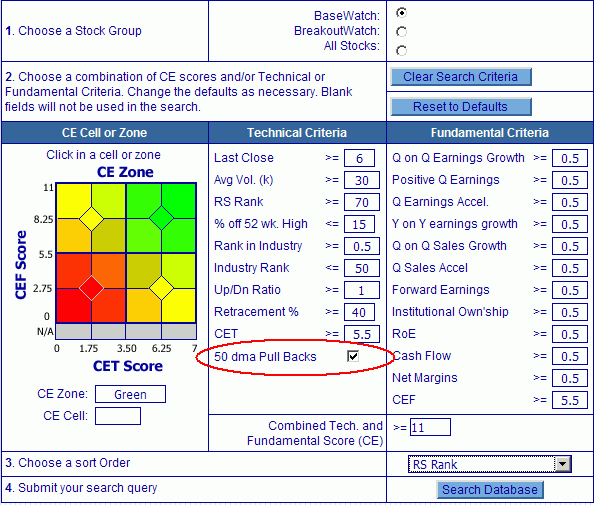 Investment Advisors Using our Service
TradeRight Securities, located in a suburb of Chicago, is a full services investment management company and broker/dealer. They have been a subscriber, and user, of BreakoutWatch.com for some time now. They practice CANTATA and use Breakoutwatch.com as a "research analyst". You can learn more about TradeRight Securities at: www.traderightsecurities.com. If you're interested in speaking to a representative, simply call them toll-free at 1-800-308-3938 or e-mail gdragel@traderightsecurities.com.
PivotPoint Advisors, LLC takes a technical approach to investment planning and management. A breakoutwatch.com subscriber since May, 2004, they use breakouts, market signals, and now TradeWatch to enhance returns for their clients. Learn more at http://pivotpointadvisors.net or contact John Norquay at 608-826-0840 or by email at john.norquay@pivotpointadvisors.net.
Note to advisors: If you would like to be listed here, please contact us. As a service to those who subscribe to us, there is no additional charge to be listed here.
Get a 14 day Trial of our premium 'Platinum' service and TradeWatch for just $9.95 and if you subsequently subscribe to any subscription level we will credit your $9.95 to your subscription.

14 Day Platinum Trial
(you will need to allow pop-ups from breakoutwatch.com to see the subscription form)
---