Market Summary
Market Adjusts and Growth Stocks are Back in Favor
This week the markets adjusted their expectations on interest rate cuts. Investors have pushed stocks up on the expectation that an interest rate cut was likely later this year but evidence of an improving economy and a still higher than desirable inflation rate led investors to the realization that a rate cut is unlikely this year, and there may even be an increase of the overnight Fed funds rate to 5.5%. Consequently, investors took profits and all three indexes dropped sharply on a succession of three distribution days.
We saw this coming on Monday, when an article on Bloomberg.com caught our eye. It drew attention to the treasury options market increasingly favoring an interest rate increase by the Fed before year's end . We warned that this was contrary to the conventional wisdom that a rate cut later in the year was most likely and that a change in the bullish sentiment was likely when investors took notice. Just a day later, Fed Chairman Bernanke said that growth was rebounding while inflation remained 'somewhat elevated'. Further evidence of a strengthening economy was also provided by the Institute of Supply Management who reported that their index of service sector activity jumped to 59.7 while the consensus expectation was for it to be steady at 56.
By Friday, however, investors had adjusted to the new reality and recognized that an expanding economy with interest rates at their current level wasn't necessarily bad for stocks and the major indexes made substantial gains to recover a third of their losses. Friday's close left the indexes at their highs of the day on volume that was above average for a Friday session. For the week, the DJI lost 1.78%, the S&P 500 dropped 1.87% while the NASADQ Composite lost just 1.54%. This was the third week in succession that the growth oriented NASDAQ Composite has outperformed the other three major indexes.
We think this week's adjustment is a healthy sign that the markets could be coming to their senses. While there could be some short term turbulence, stocks will resume their upward march after a short correction. The following charts of the S&P 500 show that there have been three rates of growth for the index over the last five years, with the most recent rate of growth well out of line with what could be sustainable over the longer term. A 5 year chart shows that the rate of growth of the S&P 500 kicked up following last year's correction. and the 1 year chart shows that the rate accelerated again over the last two months.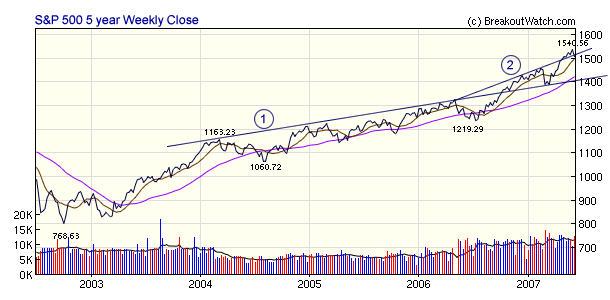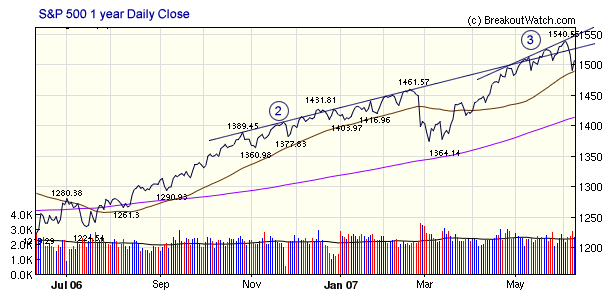 In contrast, The NASDAQ, which has under performed the larger cap stocks this year, has not become similarly over-extended and we can expect a smaller correction, if any, and that an expanding economy will favor growth stocks again.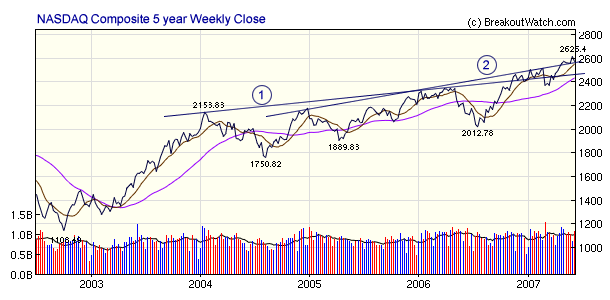 The number of confirmed breakouts dropped to 12 this week, but they were a classy bunch that gained 2.8% by week's end, easily beating the major indexes. Only one failed, and four closed above the 5% range. Dyncorp International (DCP) rose 24.2% over its pivot before closing the week with a 12.6% gain.