Special Market Rally Pricing Until July 31 - see below
Our equivolume charts provide an excellent visual summary of the state of the major indexes. Published daily in our Market Analysis section they convey at a glance the action for the day and the recent progress of the indexes. Learn more about equivolume charts here.
Our equivolume chart for the NASDAQ over the last 20 sessions shows clearly that more money is coming into the market from the sidelines and driving prices higher. The index closed higher on twelve consecutive days from July 9 until Thursday with seven of those days being accumulation days. (An accumulation day occurs when the volume exceeds that of the previous day). The price rises when demand exceeds supply so we can see from the width of the bars that demand is increasing each day. This can only happen if money is being redistributed from other sources into the market.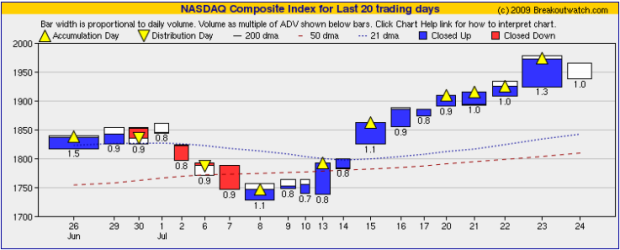 After such strong gains, it was not surprising that the index faltered slightly on Friday on profit taking but the white box on the chart shows that the index recovered almost all of its early losses. This shows traders and investors still found value in the shares comprising the index.
Special Market Rally Pricing
For those of you who have been on the sidelines and are thinking of dipping a toe into the market, and for those of you who have stuck with us through thick and thin (thank you!) we have a special offer open until July 31. If you subscribe, renew or upgrade and check the auto-renew box on the subscription page, we will increase the usual auto-renew discount from 5% to 15%. This is a gift that keeps on giving because every renewal thereafter will also get the 15% discount.
Current, returning or new subscribers are eligible for this deal so act today. You only have until midnight Eastern Time on July 31 to take advantage of this offer.
Bonus for Platinum Subscriptions
Tradewatch is now automatically included in the Platinum subscription - an extra $39.95 value. This allows Platinum subscribers access to our 'Sell Assistant' even though they may not be interested in our other Tradewatch watchlists. Take advantage of our special offer until July 31 to upgrade to Platinum and get the Sell Assistant, and other Tradewatch services, at an extra discount.
By the way, while we have been promoting the Zacks Strong Buy strategy lately, we failed to mention that Tradewatch has done quite well this year to date. Here are the summary results. Full details are available in the Tradewatch section of the site.
Buy On Breakout
Buy at Open

Number of stocks Meeting Criteria: 38
Number of orders filled: 38
Number of failures at 8%: 7
Best Case Results:
Avg. gain/loss of positions to highest close: 28.88%
Avg. gain/loss including failures: 23.54%

Number of stocks Meeting Criteria: 37
Number of orders filled: 37
Number of failures at 8%: 15
Best Case Results:
Avg. gain/loss of positions to highest close: 20.71%
Avg. gain/loss including failures: 12.28%

Results for Positions Still Open

No. of Positions Open: 5
Avg. % Gain on Open Positions: 36.08
Avg. Open Period: 60 days

Results for Positions Still Open

No. of Positions Open: 7
Avg. % Gain on Open Positions: 26.84
Avg. Open Period: 28 days

Best Performance

VIT 89.9% gain to date

MEDX 99.4% gain to date